Snowy Owls staged a major invasion last year, one that was covered far and wide by birders and the news media alike. Check out this great album from Ryan Schain of Snowy Owl candids! This irruption was most likely related to an abundance of rodents in and around northern Quebec that helped Snowy Owl pairs produce large numbers of young that irrupted into the US.
Photo credits: Jeremiah Trimble
This invasion also caught the attention of a group of technological-minded scientists that took the opportunity to outfit these irregular Arctic invaders with state of the art tracking devices that collected, stored, and the returned information about the whereabouts of the individual birds. Amazing information is coming in from this effort, Project SNOWStorm, in tracking the movements of birds from last year's irruption outfitted with trackers across their travels during the past year since being outfitted! Some individual owls are returning to the US, and the information that these trackers is returning is eye opening to say the least. Check out this and this!
That said, Snowy Owls are again on the move this fall, with numbers of birds reported across the northern tier of the US. See this link for a report earlier in the fall of 38 birds in Newfoundland, and also this link to see current reports all across the US and Canada. Presumably, the success of last year's Snowy Owl bounty is translating into more owls present that can irrupt; but this year's irruption is following a different course than last year, something Project SNOWStorm has been following and discussing and that is also apparent in comparing eBird data for these years.
For example, the images below show daily changes in the frequency of occurrence of Snowy Owls as reported in complete checklists to eBird for the Upper Midwest and Northeast. The autumn irruptions of 2013 and 2014 are both striking in their departures from the mean frequencies of occurrence for the 2001-2012 period (although irruptions are by no means average occurrences, we choose the mean for illustrative purposes). But note the differences between 2013 and 2014 from these two graphics and the last image comparing 2013 and 2014 frequencies. Clearly owls are on the move in 2014, but this year's movement so far is nothing like the epic event of 2013.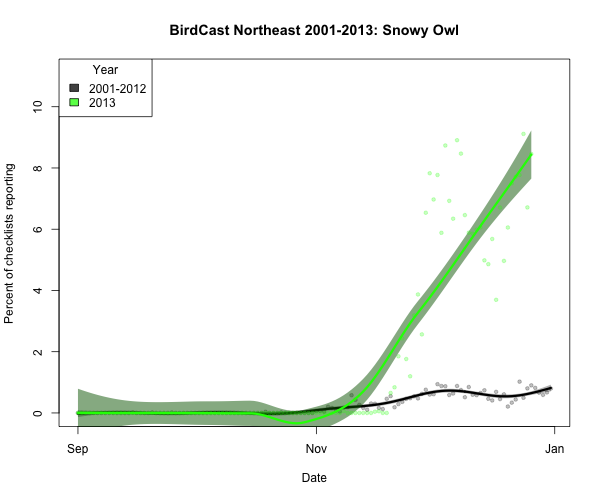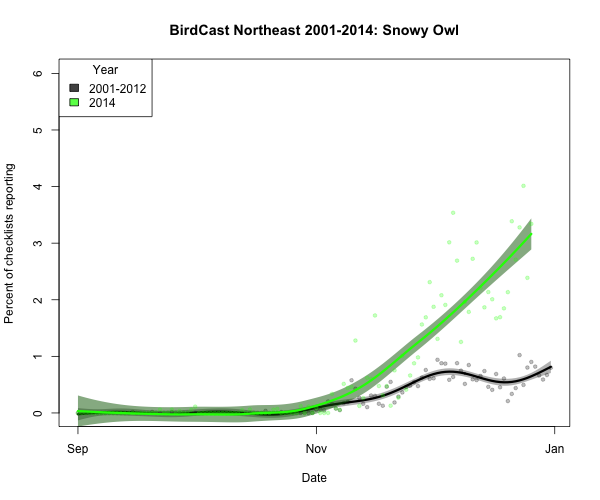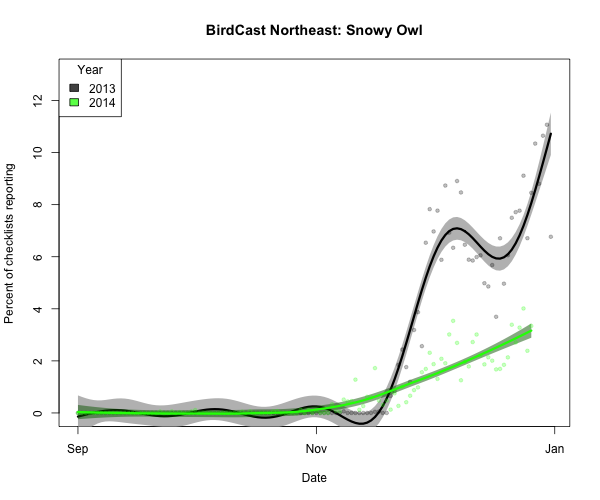 For an even more striking example, take a look at this figure representing the same types of data for 2004-2011, 2012, 2013, and 2014!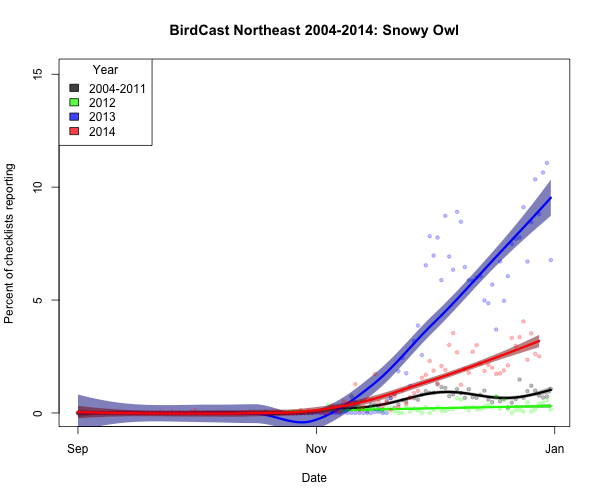 If you want to track the owls as Project SNOWStorm does, go here. If you want to track Snowy Owls on your own, please check in to eBird's range maps, and use this alert to tell you where these fabulous creatures are as they are seen! And of course, please enter your data into eBird (and tell us what you can about the ages and genders of these birds!)!