The BirdCast team is always excited about migration – it's in our DNA! But we are especially excited at the prospect of massive nocturnal movements of birds, such as …… the one forecast for this evening! Over the contiguous US the BirdCast model predicts just over half a billion birds to be flying during peak flight hours (~3 hours after local sunset) tonight! Note, the large movements this evening are the largest for the coming days during this pulse of birds moving through the country (you can see this by watching the animation below of upcoming nights' forecasts): forecast peak nightly numbers gradually diminish after tonight until the next intense pulse of migrants begins to move across the continent on 13 September.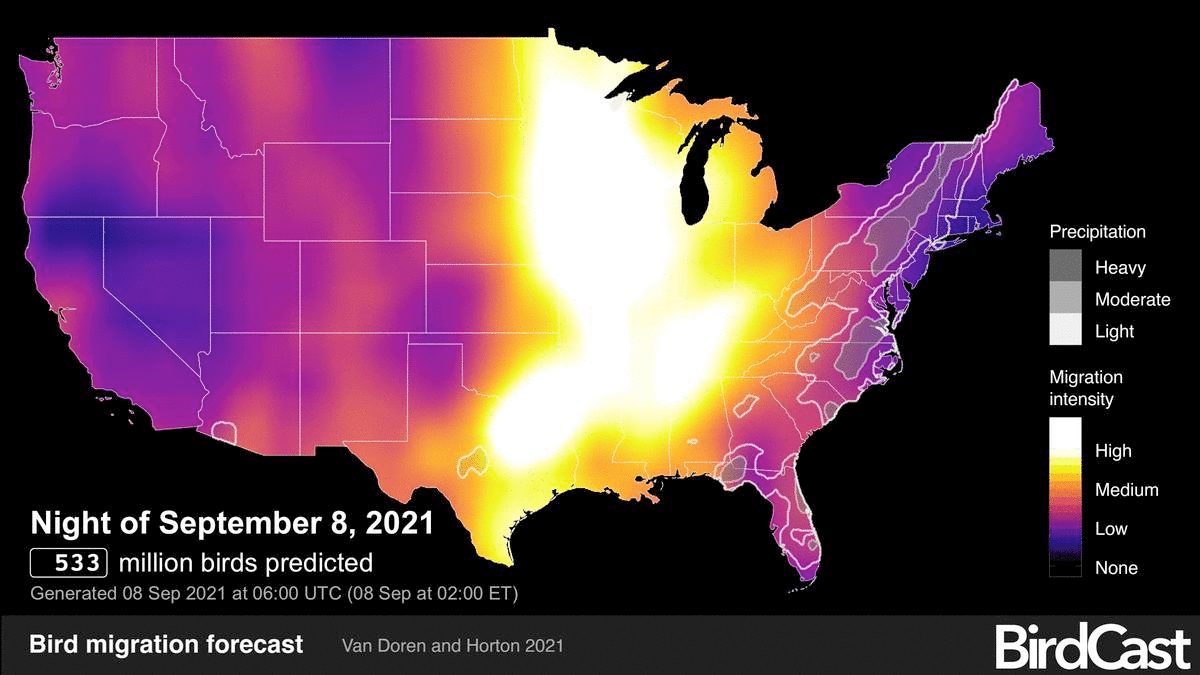 For those of you in the Upper Midwest, the Mississippi River Valley, and portions of the southern Great Plains and eastern Texas, you can expect an intense movement this evening! Be listening for migrants in the hours after local midnight, and of course plan to go birding this afternoon and tomorrow morning; and don't forget to submit your observations to eBird, as your birding efforts help us understand and improve our knowledge of what species are on the move!
Such intense migration is not only an amazing spectacle to consider and to observe, it is also an opportunity: to protect these incredible migrants and their movements. Turn out your non-essential lights from 11pm to 6am in all high intensity migration areas, particularly in areas of red this evening in the center of the US (click on the map to look in more detail at CSU Lights Out Alerts) tonight (and then follow through by turning off such lights every night!). Read more about lights out initiatives here.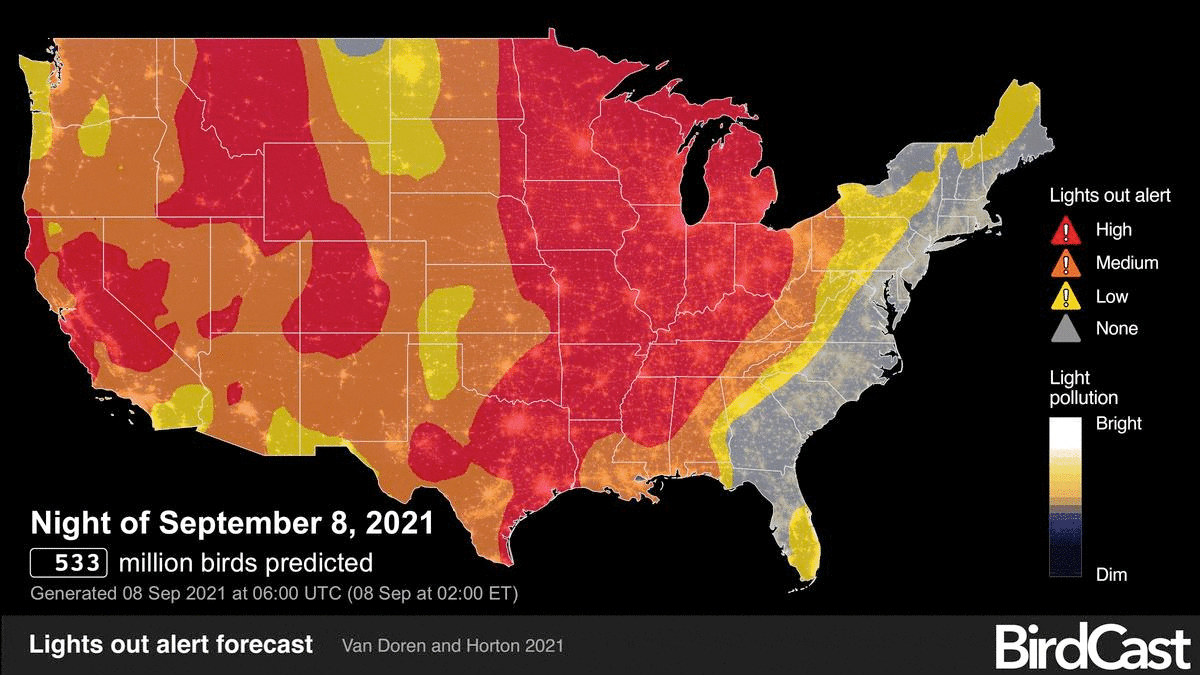 And speaking of species on the move, we highlight the following species on the move in the areas predicted to experience intense migration this evening.
---
Upper Midwest and Northeast
Peaking Arrivals
| Species | Noticeability | Migrants Begin Arriving | Rapid Migrant Influx | Peak | Rapid Migrant Departure | Last Migrants Depart |
| --- | --- | --- | --- | --- | --- | --- |
| Belted Kingfisher | ** | - | 8/2 | 9/19 | 10/16 | 10/29 |
| Prairie Warbler | * | - | 8/2 | 9/10 | 9/25 | 10/7 |
| Sora | * | 8/12 | 8/21 | 9/24 | 10/12 | 10/25 |
| American Golden-Plover | ** | 8/16 | 8/26 | 9/9 | 9/22 | 10/16 |
| Chestnut-sided Warbler | *** | 8/14 | 8/26 | 9/9 | 9/25 | 10/6 |
| Wood Thrush | ** | 8/22 | 8/28 | 9/12 | 10/1 | 10/12 |
| Yellow-throated Vireo | *** | 8/21 | 8/29 | 9/9 | 9/22 | 10/2 |
| Ovenbird | ** | 8/15 | 8/29 | 9/12 | 9/30 | 10/12 |
| Black-and-white Warbler | *** | 8/2 | 8/29 | 9/13 | 9/30 | 10/11 |
| Tennessee Warbler | *** | 8/17 | 8/29 | 9/15 | 10/4 | 10/19 |
| White-eyed Vireo | *** | 8/23 | 8/31 | 9/10 | 9/23 | 10/3 |
| Northern Waterthrush | ** | 8/2 | 8/31 | 9/10 | 9/24 | 10/9 |
| Hooded Warbler | * | 8/23 | 8/31 | 9/10 | 9/24 | 10/5 |
| American Redstart | *** | 8/20 | 8/31 | 9/12 | 9/26 | 10/8 |
| Wilson's Warbler | *** | 8/22 | 8/31 | 9/11 | 9/23 | 10/2 |
| Red-headed Woodpecker | * | 8/23 | 9/1 | 9/11 | 9/27 | 10/13 |
| Magnolia Warbler | *** | 8/20 | 9/1 | 9/16 | 10/2 | 10/13 |
| Common Yellowthroat | *** | 8/24 | 9/2 | 9/17 | 10/9 | 10/23 |
| Black-throated Blue Warbler | *** | 8/23 | 9/2 | 9/25 | 10/14 | 10/23 |
| Nashville Warbler | *** | 8/23 | 9/3 | 9/20 | 10/10 | 10/22 |
| Scarlet Tanager | *** | 8/24 | 9/3 | 9/15 | 10/1 | 10/12 |
| Merlin | *** | 8/26 | 9/4 | 9/20 | 10/26 | 11/6 |
| Red-breasted Nuthatch | ** | 8/12 | 9/4 | 10/2 | 10/17 | After Nov 30 |
| Cape May Warbler | *** | 8/25 | 9/4 | 9/18 | 10/2 | 10/15 |
| Bay-breasted Warbler | *** | 8/26 | 9/4 | 9/15 | 9/28 | 10/8 |
| Pine Warbler | ** | 8/23 | 9/4 | 9/21 | 10/12 | 10/26 |
| Bald Eagle | *** | 8/2 | 9/5 | 9/17 | 9/26 | 10/1 |
| Red-shouldered Hawk | ** | 8/26 | 9/5 | 9/21 | 11/10 | 11/19 |
| Philadelphia Vireo | *** | 8/27 | 9/5 | 9/16 | 9/28 | 10/7 |
| House Wren | ** | 8/30 | 9/5 | 9/15 | 10/7 | 10/21 |
| Swainson's Thrush | *** | 8/27 | 9/5 | 9/17 | 9/30 | 10/14 |
| Turkey Vulture | *** | 8/28 | 9/6 | 9/19 | 10/27 | After Nov 30 |
| American Kestrel | ** | 8/29 | 9/6 | 9/26 | 10/22 | 11/2 |
| Cooper's Hawk | ** | 8/2 | 9/7 | 10/11 | 10/28 | 11/8 |
| Northern Parula | *** | 8/28 | 9/7 | 9/20 | 10/4 | 10/15 |
| Blackpoll Warbler | *** | 8/28 | 9/7 | 9/22 | 10/8 | 10/23 |
| Black-throated Green Warbler | *** | 8/24 | 9/7 | 9/21 | 10/6 | 10/17 |
| Summer Tanager | * | 8/27 | 9/7 | 9/17 | 10/2 | 10/12 |
| Rose-breasted Grosbeak | *** | 8/30 | 9/7 | 9/17 | 9/30 | 10/9 |
| Broad-winged Hawk | *** | 8/31 | 9/8 | 9/18 | 9/29 | 10/7 |
| Blue Jay | *** | 8/23 | 9/8 | 9/28 | 10/30 | 11/26 |
| Gray Catbird | *** | 8/28 | 9/8 | 9/18 | 10/9 | 10/22 |
| Brown Thrasher | *** | 8/30 | 9/9 | 9/21 | 10/4 | 10/17 |
| Sharp-shinned Hawk | *** | 8/31 | 9/10 | 10/17 | 10/30 | After Nov 30 |
| Gray-cheeked Thrush | ** | 9/2 | 9/11 | 9/23 | 10/5 | 10/14 |
| Northern Flicker | *** | 8/30 | 9/12 | 9/25 | 10/10 | 10/30 |
| Indigo Bunting | ** | 9/10 | 9/16 | 9/25 | 10/12 | 10/21 |
Beginning Departures
| Species | Noticeability | Migrants Begin Arriving | Rapid Migrant Influx | Peak | Rapid Migrant Departure | Last Migrants Depart |
| --- | --- | --- | --- | --- | --- | --- |
| Killdeer | *** | - | - | Before Aug 1 | 10/25 | 11/24 |
| Whimbrel | * | - | - | Before Aug 1 | 9/19 | 10/3 |
| Yellow-crowned Night-Heron | * | - | 8/2 | 8/6 | 10/10 | 10/28 |
| Yellow-billed Cuckoo | * | - | 8/2 | 8/6 | 9/28 | 10/12 |
| Tree Swallow | *** | - | 8/2 | 8/9 | 10/25 | 11/6 |
| Snowy Egret | ** | - | 8/2 | 8/11 | 10/17 | 10/31 |
| Green Heron | *** | - | 8/2 | 8/12 | 9/16 | 10/5 |
| Great Egret | *** | - | 8/2 | 8/13 | 10/22 | 11/5 |
| Solitary Sandpiper | *** | - | 8/2 | 8/13 | 9/11 | 9/30 |
| Laughing Gull | ** | - | 8/2 | 8/14 | After Nov 30 | - |
| Great Blue Heron | *** | - | 8/2 | 8/15 | 10/20 | After Nov 30 |
| Osprey | *** | - | 8/2 | 8/15 | 10/19 | 11/4 |
| Forster's Tern | * | - | 8/2 | 8/16 | 9/26 | After Nov 30 |
| Cedar Waxwing | *** | - | 8/2 | 8/17 | 9/25 | After Nov 30 |
| Semipalmated Plover | *** | - | 8/2 | 8/18 | 9/11 | 9/28 |
| Chimney Swift | *** | 8/9 | 8/14 | 8/18 | 10/11 | 10/20 |
| Greater Yellowlegs | ** | - | 8/2 | 8/20 | 11/11 | After Nov 30 |
| Caspian Tern | ** | - | 8/2 | 8/20 | 9/12 | 10/22 |
| Wood Duck | ** | - | 8/2 | 8/21 | 11/2 | 11/22 |
| Royal Tern | * | - | 8/2 | 8/21 | 11/8 | After Nov 30 |
| Blue-gray Gnatcatcher | *** | 8/2 | 8/12 | 8/26 | 9/15 | 9/27 |
| White-rumped Sandpiper | * | - | 8/2 | 8/27 | 9/15 | 9/22 |
| Great Crested Flycatcher | *** | 8/15 | 8/21 | 8/27 | 9/14 | 9/24 |
| Red Knot | * | 8/11 | 8/19 | 8/28 | 9/10 | 9/22 |
| Western Sandpiper | * | 8/13 | 8/19 | 8/28 | 9/9 | 9/20 |
| Blue-winged Warbler | ** | - | 8/2 | 8/28 | 9/15 | 9/26 |
| Eastern Wood-Pewee | *** | 8/7 | 8/18 | 8/29 | 9/24 | 10/9 |
| Canada Warbler | ** | 8/2 | 8/18 | 8/29 | 9/11 | 9/24 |
| Baird's Sandpiper | ** | 8/12 | 8/20 | 8/30 | 9/10 | 9/19 |
| Olive-sided Flycatcher | * | 8/2 | 8/18 | 8/30 | 9/12 | 9/25 |
| Ruby-throated Hummingbird | *** | - | 8/2 | 8/31 | 9/21 | 10/3 |
| Sanderling | ** | - | 8/2 | 9/2 | 9/22 | 10/4 |
| Bobolink | ** | 8/2 | 8/19 | 9/2 | 9/16 | 10/19 |
| Buff-breasted Sandpiper | ** | 8/16 | 8/23 | 9/3 | 9/14 | 9/22 |
| Least Flycatcher | ** | 8/11 | 8/21 | 9/3 | 9/21 | 10/4 |
| Warbling Vireo | *** | 8/19 | 8/27 | 9/5 | 9/17 | 9/25 |
| Yellow-bellied Flycatcher | * | 8/13 | 8/24 | 9/6 | 9/20 | 9/30 |
| Blue-winged Teal | ** | 8/2 | 8/19 | 9/7 | 10/22 | 11/5 |
| Red-eyed Vireo | *** | 8/15 | 8/24 | 9/7 | 9/28 | 10/11 |
| Veery | *** | 8/19 | 8/28 | 9/7 | 9/19 | 9/28 |
| Golden-winged Warbler | * | 8/18 | 8/28 | 9/8 | 9/20 | 9/29 |
| Blackburnian Warbler | *** | 8/12 | 8/23 | 9/8 | 9/26 | 10/7 |
| American Golden-Plover | * | 8/16 | 8/26 | 9/9 | 9/22 | 10/16 |
| Yellow-throated Vireo | *** | 8/21 | 8/29 | 9/9 | 9/22 | 10/2 |
| Chestnut-sided Warbler | *** | 8/14 | 8/26 | 9/9 | 9/25 | 10/6 |
| White-eyed Vireo | *** | 8/23 | 8/31 | 9/10 | 9/23 | 10/3 |
| Northern Waterthrush | *** | 8/2 | 8/31 | 9/10 | 9/24 | 10/9 |
| Hooded Warbler | * | 8/23 | 8/31 | 9/10 | 9/24 | 10/5 |
| Prairie Warbler | * | - | 8/2 | 9/10 | 9/25 | 10/7 |
| Red-headed Woodpecker | * | 8/23 | 9/1 | 9/11 | 9/27 | 10/13 |
| Wilson's Warbler | *** | 8/22 | 8/31 | 9/11 | 9/23 | 10/2 |
| Wood Thrush | ** | 8/22 | 8/28 | 9/12 | 10/1 | 10/12 |
| Ovenbird | *** | 8/15 | 8/29 | 9/12 | 9/30 | 10/12 |
| American Redstart | *** | 8/20 | 8/31 | 9/12 | 9/26 | 10/8 |
| Black-and-white Warbler | *** | 8/2 | 8/29 | 9/13 | 9/30 | 10/11 |
| House Wren | *** | 8/30 | 9/5 | 9/15 | 10/7 | 10/21 |
| Tennessee Warbler | *** | 8/17 | 8/29 | 9/15 | 10/4 | 10/19 |
| Bay-breasted Warbler | *** | 8/26 | 9/4 | 9/15 | 9/28 | 10/8 |
| Scarlet Tanager | *** | 8/24 | 9/3 | 9/15 | 10/1 | 10/12 |
| Philadelphia Vireo | *** | 8/27 | 9/5 | 9/16 | 9/28 | 10/7 |
| Magnolia Warbler | *** | 8/20 | 9/1 | 9/16 | 10/2 | 10/13 |
Great Plains
Peaking Arrivals
| Species | Noticeability | Migrants Begin Arriving | Rapid Migrant Influx | Peak | Rapid Migrant Departure | Last Migrants Depart |
| --- | --- | --- | --- | --- | --- | --- |
| Great Egret | * | - | 8/2 | 9/13 | 10/20 | 11/11 |
| Swainson's Hawk | ** | - | 8/2 | 9/11 | 10/14 | 10/22 |
| Sora | * | - | 8/2 | 9/27 | 10/20 | 11/4 |
| Greater Yellowlegs | * | - | 8/2 | 10/27 | 11/16 | After Nov 30 |
| Tennessee Warbler | ** | 8/2 | 8/9 | 9/9 | 10/3 | 10/23 |
| Blue-winged Teal | *** | 8/2 | 8/10 | 9/13 | 10/24 | 11/10 |
| Magnolia Warbler | * | 8/16 | 8/27 | 9/9 | 9/23 | 10/3 |
| Caspian Tern | * | 8/2 | 8/31 | 9/11 | 9/26 | 10/9 |
| Philadelphia Vireo | * | 8/18 | 8/31 | 9/13 | 9/27 | 10/6 |
| White-eyed Vireo | * | 8/24 | 9/1 | 9/12 | 9/27 | 10/8 |
| House Wren | ** | 8/25 | 9/1 | 9/11 | 10/6 | 10/20 |
| Swainson's Thrush | *** | 8/24 | 9/1 | 9/11 | 9/22 | 10/1 |
| Blue-headed Vireo | *** | 8/25 | 9/2 | 9/16 | 9/28 | 10/24 |
| Northern Parula | ** | 8/26 | 9/2 | 9/12 | 9/24 | 10/5 |
| Black-throated Green Warbler | * | 8/20 | 9/2 | 9/22 | 10/13 | 10/28 |
| Clay-colored Sparrow | *** | 8/20 | 9/3 | 9/24 | 10/16 | 10/30 |
| Turkey Vulture | *** | 8/2 | 9/4 | 9/27 | 10/16 | 10/25 |
| Gray Catbird | *** | 8/2 | 9/4 | 9/13 | 10/1 | 10/13 |
| Brown Thrasher | *** | 8/26 | 9/4 | 9/14 | 9/29 | 10/9 |
| Cooper's Hawk | ** | 8/2 | 9/5 | 9/24 | 10/24 | 11/8 |
| Nashville Warbler | *** | 8/27 | 9/5 | 9/22 | 10/14 | 10/24 |
| Merlin | * | 8/19 | 9/6 | 10/24 | 11/8 | 11/24 |
| Common Yellowthroat | *** | 8/30 | 9/6 | 9/20 | 10/12 | 10/21 |
| Red-shouldered Hawk | * | 8/2 | 9/7 | 9/29 | 10/28 | 11/25 |
| American White Pelican | ** | 8/2 | 9/8 | 10/18 | After Nov 30 | - |
| Osprey | *** | 8/28 | 9/9 | 9/23 | 10/6 | 11/11 |
| Western Meadowlark | *** | 8/2 | 9/9 | 10/15 | 10/29 | 11/7 |
| Summer Tanager | ** | 9/2 | 9/10 | 9/20 | 10/4 | 10/14 |
| Indigo Bunting | ** | 9/7 | 9/11 | 9/20 | 10/12 | 10/21 |
| Peregrine Falcon | * | 8/2 | 9/13 | 9/24 | 10/9 | 10/23 |
| Eastern Phoebe | *** | 9/1 | 9/13 | 9/25 | 10/12 | 10/25 |
| Broad-winged Hawk | ** | 9/8 | 9/15 | 9/23 | 10/5 | 10/12 |
| Pied-billed Grebe | *** | 9/3 | 9/16 | 10/30 | 11/13 | 11/29 |
| Franklin's Gull | *** | 9/3 | 9/16 | 10/16 | 11/7 | After Nov 30 |
| Northern Flicker | ****! | 9/7 | 9/16 | 10/1 | 11/4 | 11/13 |
| Scissor-tailed Flycatcher | ** | 9/6 | 9/16 | 9/27 | 10/19 | 11/1 |
Beginning Departures
| Species | Noticeability | Migrants Begin Arriving | Rapid Migrant Influx | Peak | Rapid Migrant Departure | Last Migrants Depart |
| --- | --- | --- | --- | --- | --- | --- |
| Cattle Egret | * | - | - | Before Aug 1 | 10/1 | 11/2 |
| Killdeer | *** | - | - | Before Aug 1 | 11/4 | After Nov 30 |
| Spotted Sandpiper | *** | - | - | Before Aug 1 | 9/9 | 9/29 |
| Baird's Sandpiper | ** | - | - | Before Aug 1 | 9/10 | 9/21 |
| Black Tern | ** | - | - | Before Aug 1 | 9/12 | 9/30 |
| Northern Rough-winged Swallow | ** | - | - | Before Aug 1 | 10/7 | 10/23 |
| Tree Swallow | ** | - | - | Before Aug 1 | 9/9 | 11/1 |
| Lark Sparrow | *** | - | - | Before Aug 1 | 9/13 | 9/26 |
| Yellow-headed Blackbird | * | - | 8/2 | 8/9 | 9/27 | 10/8 |
| Lark Bunting | ** | - | 8/2 | 8/11 | 9/17 | 9/24 |
| Solitary Sandpiper | ** | 8/2 | 8/7 | 8/15 | 9/10 | 9/26 |
| Marbled Godwit | * | - | 8/2 | 8/15 | 9/10 | 10/2 |
| Chimney Swift | *** | - | 8/2 | 8/15 | 10/11 | 10/20 |
| Green Heron | *** | - | 8/2 | 8/17 | 9/22 | 10/9 |
| Mourning Dove | *** | - | 8/2 | 8/17 | 10/4 | 10/25 |
| Bank Swallow | *** | - | 8/2 | 8/19 | 9/10 | 9/26 |
| Wood Duck | ** | - | 8/2 | 8/20 | 10/28 | After Nov 30 |
| Snowy Egret | ** | - | 8/2 | 8/20 | 10/5 | 10/26 |
| Lesser Yellowlegs | ** | - | 8/2 | 8/20 | 9/13 | 11/8 |
| Semipalmated Sandpiper | *** | 8/2 | 8/13 | 8/20 | 9/9 | 9/23 |
| Forster's Tern | ** | - | 8/2 | 8/20 | 9/10 | 10/19 |
| Eastern Wood-Pewee | *** | - | 8/2 | 8/20 | 9/21 | 10/5 |
| Wilson's Phalarope | ** | 8/12 | 8/17 | 8/23 | 9/12 | 9/25 |
| Least Sandpiper | *** | 8/2 | 8/6 | 8/25 | 9/14 | 9/24 |
| Western Wood-Pewee | * | 8/12 | 8/18 | 8/25 | 9/11 | 9/23 |
| Bell's Vireo | *** | 8/14 | 8/19 | 8/26 | 9/9 | 9/19 |
| Black-crowned Night-Heron | * | - | 8/2 | 8/27 | 9/27 | 10/28 |
| Semipalmated Plover | ** | 8/22 | 8/25 | 8/29 | 9/15 | 9/23 |
| Buff-breasted Sandpiper | ** | 8/16 | 8/21 | 8/29 | 9/10 | 9/18 |
| Common Nighthawk | *** | 8/15 | 8/21 | 8/29 | 10/1 | 10/10 |
| Red-headed Woodpecker | *** | - | 8/2 | 8/29 | 9/23 | 10/13 |
| Yellow Warbler | *** | - | 8/2 | 8/29 | 9/18 | 9/27 |
| Great Crested Flycatcher | *** | 8/2 | 8/25 | 8/30 | 9/16 | 9/25 |
| Blue-gray Gnatcatcher | *** | - | 8/2 | 8/30 | 9/20 | 10/1 |
| Ruby-throated Hummingbird | *** | - | 8/2 | 8/31 | 9/22 | 10/5 |
| Canada Warbler | * | 8/2 | 8/16 | 8/31 | 9/14 | 9/25 |
| White-faced Ibis | * | - | 8/2 | 9/1 | 10/2 | 10/30 |
| Red-eyed Vireo | *** | 8/2 | 8/20 | 9/1 | 9/20 | 10/2 |
| Mourning Warbler | * | 8/12 | 8/20 | 9/1 | 9/13 | 9/27 |
| Rose-breasted Grosbeak | ** | 8/2 | 8/12 | 9/2 | 9/29 | 10/12 |
| Olive-sided Flycatcher | *** | 8/13 | 8/23 | 9/3 | 9/16 | 9/24 |
| Chestnut-sided Warbler | * | 8/11 | 8/21 | 9/3 | 9/18 | 10/1 |
| Least Flycatcher | *** | 8/2 | 8/20 | 9/4 | 9/20 | 10/2 |
| Ovenbird | ** | 8/13 | 8/22 | 9/4 | 9/18 | 10/5 |
| Black-and-white Warbler | *** | 8/11 | 8/23 | 9/5 | 9/21 | 10/2 |
| American Redstart | *** | 8/10 | 8/24 | 9/5 | 9/19 | 9/28 |
| Yellow-breasted Chat | * | 8/19 | 8/26 | 9/5 | 9/20 | 9/30 |
| Sanderling | * | 8/2 | 8/20 | 9/6 | 10/7 | 10/26 |
| Warbling Vireo | *** | 8/20 | 8/28 | 9/6 | 9/19 | 9/27 |
| Red-necked Phalarope | * | 8/2 | 8/22 | 9/7 | 9/29 | 10/15 |
| Say's Phoebe | ** | 8/16 | 8/28 | 9/7 | 9/26 | 10/8 |
| Yellow-throated Vireo | ** | 8/24 | 8/31 | 9/8 | 9/19 | 9/27 |
| Tennessee Warbler | * | 8/2 | 8/9 | 9/9 | 10/3 | 10/23 |
| Magnolia Warbler | * | 8/16 | 8/27 | 9/9 | 9/23 | 10/3 |
| Swainson's Hawk | *** | - | 8/2 | 9/11 | 10/14 | 10/22 |
| Caspian Tern | * | 8/2 | 8/31 | 9/11 | 9/26 | 10/9 |
| House Wren | *** | 8/25 | 9/1 | 9/11 | 10/6 | 10/20 |
| Swainson's Thrush | *** | 8/24 | 9/1 | 9/11 | 9/22 | 10/1 |
| White-eyed Vireo | ** | 8/24 | 9/1 | 9/12 | 9/27 | 10/8 |
| Northern Parula | ** | 8/26 | 9/2 | 9/12 | 9/24 | 10/5 |
| Blue-winged Teal | *** | 8/2 | 8/10 | 9/13 | 10/24 | 11/10 |
| Great Egret | *** | - | 8/2 | 9/13 | 10/20 | 11/11 |
| Philadelphia Vireo | ** | 8/18 | 8/31 | 9/13 | 9/27 | 10/6 |
| Gray Catbird | *** | 8/2 | 9/4 | 9/13 | 10/1 | 10/13 |
| Brown Thrasher | *** | 8/26 | 9/4 | 9/14 | 9/29 | 10/9 |
| Blue-headed Vireo | ** | 8/25 | 9/2 | 9/16 | 9/28 | 10/24 |