Hurricane Delta is a powerful storm predicted to make landfall late on Friday on the Louisiana coast. This storm will certainly entrain Gulf of Mexico seabirds, as well as displacing some nearer shore species inland. But as always with our posts about birding near tropical weather systems, remember that these storms are extremely dangerous: safety is always the top priority.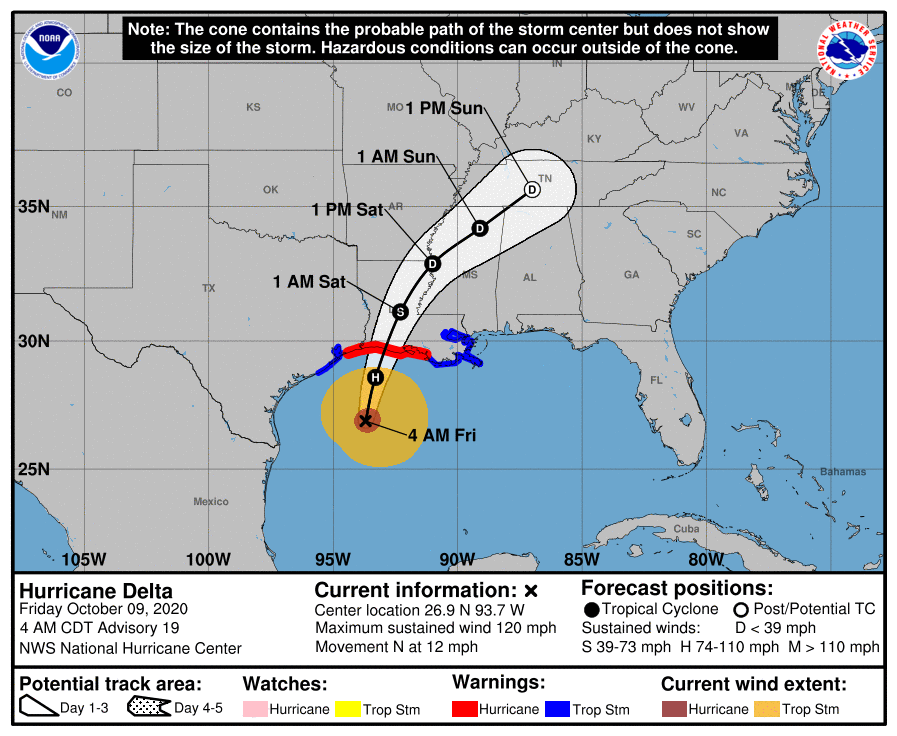 An array of Gulf of Mexico seabirds is possible with this storm, presumably as far inland as northern Mississippi, western and central Tennessee, and depending on the track and speed of the storm's remnants, southern Kentucky through northern Georgia. Based on current predictions, inland bodies of water in northeastern Louisiana, northern and central Mississippi, northwestern Alabama, and central southern Tennessee have the highest likelihoods of entrained storm birds. The haul of birds should include Sooty Tern (almost as far as structured remnants of the storm persists), Bridled Tern (closer to the immediate coast), and Magnificent Frigatebird (numbers along the coast and just inland, with far inland sightings possible depending on the storm's structure and speed). Concentrations of shorebirds will occur in coastal areas, and numerous overland migrants may drop with intense weather associated with the storm's arrival farther inland (Sabine's Gull, Long-tailed Jaeger, Red and Red-necked Phalaropes).
In early October 2002, Hurricane Lili followed a somewhat similar trajectory, depositing and displacing large numbers of Magnificent Frigatebirds along the Mississippi coast, Sooty Terns as far inland as Henry County, TN and McCracken County, KY, Sabine's Gull in KY, and numerous shorebirds along the Gulf Coast.
As Delta comes ashore, and for 1-4 days following landfall, we will be tracking live observations of storm birds reported in its wake.