Together with former First Lady Laura Bush and her public service announcement on the importance of turning out lights to protect nocturnally migrating birds, Dallas Mayor Eric Johnson has issued a proclamation declaring all nights through Oct. 10 as "Lights Out Nights" in the city. This proclamation urges residents and businesses to turn out non-essential lights between 11 p.m. and 6 a.m. during the critical migratory period.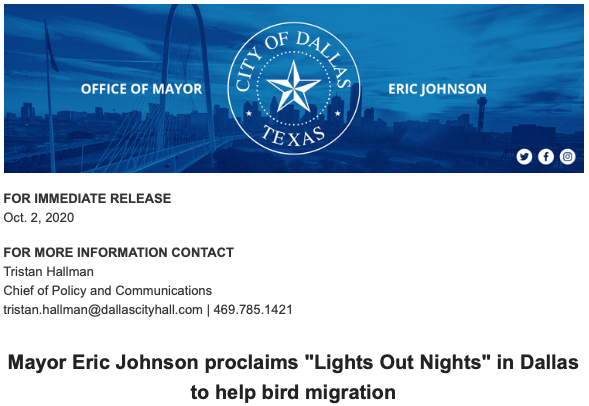 "The spectacular downtown Dallas skyline has been noticeably darker on recent nights as part of the Lights Out efforts in our city," Mayor Johnson said. "I am strongly encouraging residents and business owners across our city to join in this important initiative by turning off their non-essential lights by 11 p.m. and keeping them off until 6 a.m. Doing so will play a big part in helping to keep our wildlife safe and to conserve energy."
This proclamation and the efforts to protect nocturnally migrating birds in Dallas would not be possible without the leadership and support from Mayor Johnson and his staff and all our partners at Downtown Dallas, Inc., Texas Conservation Alliance, Texan by Nature, Dallas Zoo, and Perot Museum of Nature and Science.
Additional efforts toward similar goals are currently underway in Houston with our partners at Houston Audubon Society and in other cities in Texas. For more information about when large numbers of birds are migrating through the Dallas area in autumn and spring and when to turn off lights, please signup for BirdCast Lights Out Alerts for Dallas. And of course, although this applies to a proclamation in Dallas, there is no better time than the present to organize similar efforts in your city in Texas or anywhere in the US (or around the world for that matter)!