The BirdCast model is predicting high intensity migration tonight!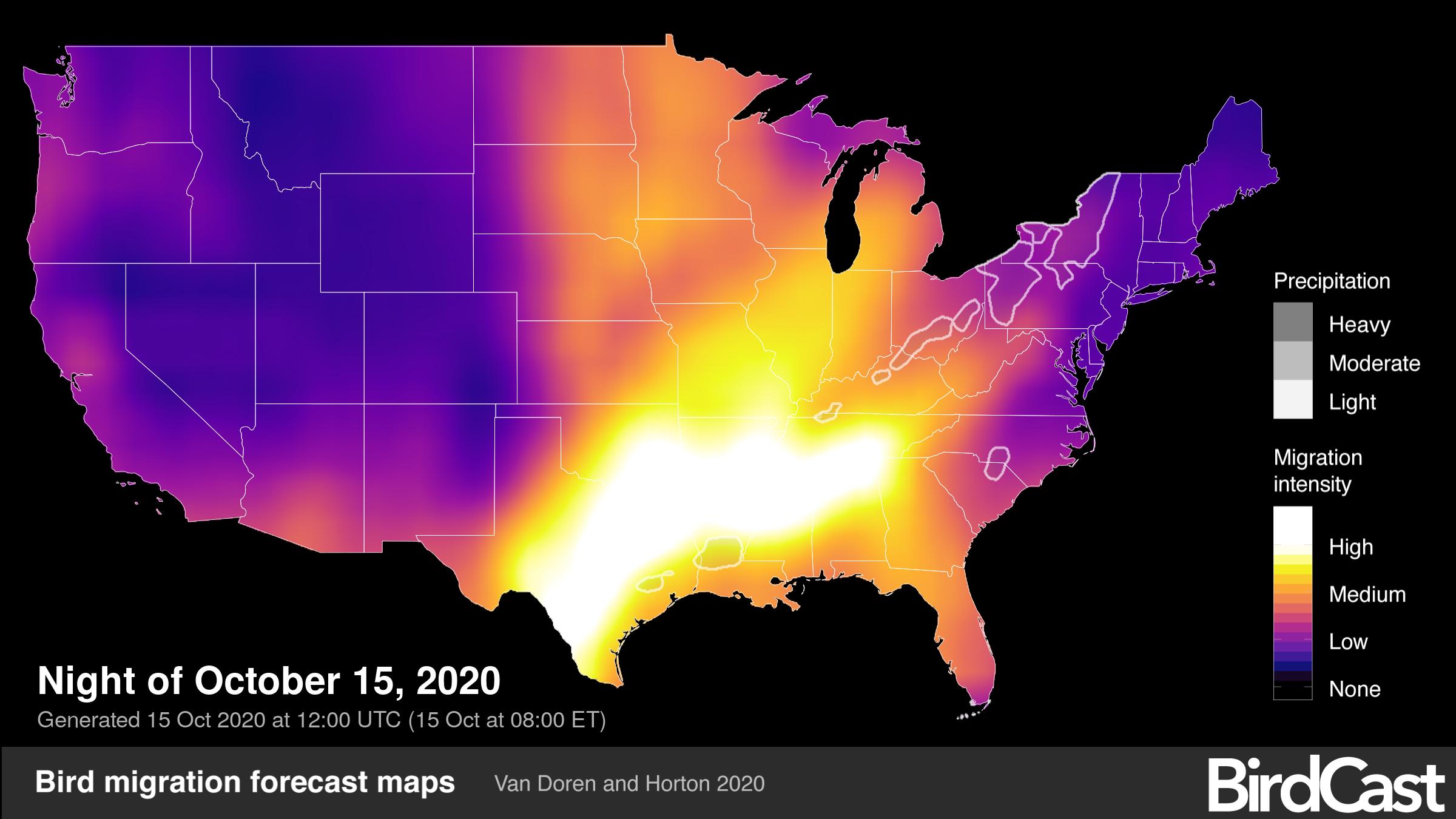 An estimated 408 million birds will take flight tonight across the contiguous US tonight. There will be intense migration in many areas of the south central US from the Rio Grande Valley north and east into Tennessee. For those in areas predicted to experience high intensity migration, this will be a great opportunity to experience nocturnal migration by listening at night to vocal birds in flight or by observing tomorrow morning for new arrival and departures. In highly urbanized areas, especially cities in the central and southern US, it is also particularly important to turn off lights at night to avoid attracting birds into hazardous conditions in which they can collide with buildings and other structures. This is particular true for many areas of the south central US.
The expandable tables that follow detail what species will be on the move in your region of the US. For further information about BirdCast regions, species on the move, and the data we use, please visit this review page.
Upper Midwest and Northeast
Species on the Move
| Species | Noticeability | Migrants Begin Arriving | Rapid Migrant Influx | Peak | Rapid Migrant Departure | Last Migrants Depart |
| --- | --- | --- | --- | --- | --- | --- |
| Great Cormorant | * | 9/5 | 11/16 | After Nov 30 | - | - |
| Ring-necked Duck | *** | 10/7 | 10/23 | 11/9 | 11/17 | 11/24 |
| Greater Scaup | * | 10/9 | 10/22 | After Nov 30 | - | - |
| Red-necked Grebe | * | 10/11 | 10/23 | 11/5 | 11/15 | 11/23 |
| Red-throated Loon | ** | 10/11 | 10/28 | After Nov 30 | - | - |
| Canvasback | * | 10/12 | 10/23 | After Nov 30 | - | - |
| Lesser Scaup | *** | 10/12 | 10/25 | 11/14 | 11/20 | After Nov 30 |
| Bonaparte's Gull | *** | 10/12 | 10/25 | 11/11 | After Nov 30 | - |
| White-winged Scoter | ** | 10/12 | 10/24 | 11/6 | 11/13 | 11/18 |
| Common Loon | *** | 10/14 | 10/26 | 11/11 | 11/24 | After Nov 30 |
| Horned Grebe | *** | 10/15 | 10/26 | 11/11 | 11/17 | 11/22 |
| Common Merganser | ** | 10/16 | 11/29 | After Nov 30 | - | - |
| Red-breasted Merganser | *** | 10/16 | 11/1 | After Nov 30 | - | - |
| Long-tailed Duck | *** | 10/18 | 10/27 | After Nov 30 | - | - |
| Bufflehead | ****! | 10/20 | 10/30 | 11/22 | After Nov 30 | - |
| Hooded Merganser | *** | 10/20 | 11/3 | After Nov 30 | - | - |
| Common Goldeneye | *** | 10/24 | 11/29 | After Nov 30 | - | - |
Peaking Arrivals
| Species | Noticeability | Migrants Begin Arriving | Rapid Migrant Influx | Peak | Rapid Migrant Departure | Last Migrants Depart |
| --- | --- | --- | --- | --- | --- | --- |
| American Pipit | ** | 9/10 | 9/22 | 10/24 | 11/11 | 11/25 |
| Rusty Blackbird | ** | 9/19 | 10/3 | 10/23 | 11/10 | After Nov 30 |
| American Wigeon | ** | 9/23 | 10/8 | 10/28 | 11/10 | 11/29 |
| Purple Finch | *** | 9/26 | 10/8 | 10/24 | 11/8 | After Nov 30 |
| Northern Harrier | ** | 8/2 | 10/9 | 10/21 | 11/2 | 11/13 |
| Pine Siskin | *** | 9/27 | 10/10 | 10/28 | 11/11 | After Nov 30 |
| Green-winged Teal | ** | 8/13 | 10/11 | 10/24 | After Nov 30 | - |
| Pied-billed Grebe | *** | 9/4 | 10/11 | 10/31 | 11/20 | After Nov 30 |
| Northern Shoveler | * | 8/9 | 10/12 | 11/8 | After Nov 30 | - |
| Northern Pintail | ** | 9/5 | 10/12 | 10/27 | 11/7 | After Nov 30 |
| Vesper Sparrow | * | 10/5 | 10/12 | 10/21 | 11/2 | 11/10 |
| Brant | ** | 10/1 | 10/13 | 10/30 | 11/8 | 11/15 |
| American Black Duck | ** | 9/23 | 10/14 | After Nov 30 | - | - |
| Dark-eyed Junco | ****! | 9/28 | 10/14 | 11/10 | 11/16 | 11/22 |
| Fox Sparrow | *** | 9/28 | 10/16 | 11/9 | After Nov 30 | - |
| Ruddy Duck | *** | 9/29 | 10/17 | 11/8 | 11/23 | After Nov 30 |
| Dunlin | ** | 9/13 | 10/17 | 10/29 | 11/11 | 11/22 |
| Gadwall | ** | 10/4 | 10/19 | 11/12 | 11/22 | After Nov 30 |
| Redhead | * | 9/28 | 10/19 | 11/14 | 11/18 | 11/20 |
| Surf Scoter | * | 9/25 | 10/19 | 11/4 | 11/12 | 11/17 |
| Greater Scaup | * | 10/9 | 10/22 | After Nov 30 | - | - |
| Canvasback | * | 10/12 | 10/23 | After Nov 30 | - | - |
| Ring-necked Duck | *** | 10/7 | 10/23 | 11/9 | 11/17 | 11/24 |
| Red-necked Grebe | * | 10/11 | 10/23 | 11/5 | 11/15 | 11/23 |
| White-winged Scoter | ** | 10/12 | 10/24 | 11/6 | 11/13 | 11/18 |
| Lesser Scaup | ** | 10/12 | 10/25 | 11/14 | 11/20 | After Nov 30 |
| Bonaparte's Gull | ** | 10/12 | 10/25 | 11/11 | After Nov 30 | - |
| Common Loon | *** | 10/14 | 10/26 | 11/11 | 11/24 | After Nov 30 |
| Horned Grebe | *** | 10/15 | 10/26 | 11/11 | 11/17 | 11/22 |
| Long-tailed Duck | ** | 10/18 | 10/27 | After Nov 30 | - | - |
| Red-throated Loon | ** | 10/11 | 10/28 | After Nov 30 | - | - |
Beginning Departures
| Species | Noticeability | Migrants Begin Arriving | Rapid Migrant Influx | Peak | Rapid Migrant Departure | Last Migrants Depart |
| --- | --- | --- | --- | --- | --- | --- |
| Killdeer | *** | - | - | Before Aug 1 | 10/25 | 11/24 |
| Tree Swallow | *** | - | 8/2 | 8/9 | 10/25 | 11/6 |
| Great Egret | *** | - | 8/2 | 8/13 | 10/22 | 11/5 |
| Laughing Gull | ** | - | 8/2 | 8/14 | After Nov 30 | - |
| Greater Yellowlegs | ** | - | 8/2 | 8/20 | 11/11 | After Nov 30 |
| Wood Duck | ** | - | 8/2 | 8/21 | 11/2 | 11/22 |
| Royal Tern | * | - | 8/2 | 8/21 | 11/8 | After Nov 30 |
| Blue-winged Teal | ** | 8/2 | 8/19 | 9/7 | 10/22 | 11/5 |
| Turkey Vulture | *** | 8/28 | 9/6 | 9/19 | 10/27 | After Nov 30 |
| Merlin | * | 8/26 | 9/4 | 9/20 | 10/26 | 11/6 |
| Red-shouldered Hawk | * | 8/26 | 9/5 | 9/21 | 11/10 | 11/19 |
| American Kestrel | ** | 8/29 | 9/6 | 9/26 | 10/22 | 11/2 |
| Blue Jay | *** | 8/23 | 9/8 | 9/28 | 10/30 | 11/26 |
| Palm Warbler | *** | 9/2 | 9/21 | 10/6 | 10/21 | 11/1 |
| Eastern Towhee | *** | 9/23 | 9/30 | 10/9 | 10/23 | 11/3 |
| Cooper's Hawk | *** | 8/2 | 9/7 | 10/11 | 10/28 | 11/8 |
| Yellow-rumped Warbler | *** | 9/19 | 9/29 | 10/12 | 10/26 | 11/7 |
| Chipping Sparrow | *** | 9/16 | 10/2 | 10/12 | 10/29 | 11/9 |
| Savannah Sparrow | *** | 9/12 | 9/26 | 10/12 | 10/29 | 11/12 |
| American Robin | *** | 9/13 | 9/24 | 10/13 | 11/8 | After Nov 30 |
| Swamp Sparrow | *** | 9/20 | 9/30 | 10/13 | 10/27 | 11/10 |
| Brown Creeper | ** | 9/19 | 9/29 | 10/14 | 10/24 | 11/5 |
| Ruby-crowned Kinglet | *** | 9/18 | 9/30 | 10/14 | 10/28 | 11/8 |
| Song Sparrow | *** | 9/19 | 10/1 | 10/14 | 10/28 | 11/10 |
| Winter Wren | ** | 9/17 | 9/28 | 10/15 | 10/28 | 11/8 |
| Golden-crowned Kinglet | *** | 9/22 | 10/1 | 10/15 | 11/6 | 11/18 |
| White-crowned Sparrow | *** | 9/23 | 10/2 | 10/15 | 10/27 | 11/6 |
| Wilson's Snipe | * | 9/24 | 10/3 | 10/16 | 10/29 | After Nov 30 |
| Eastern Meadowlark | * | 9/17 | 10/2 | 10/16 | 10/30 | 11/11 |
| Sharp-shinned Hawk | *** | 8/31 | 9/10 | 10/17 | 10/30 | After Nov 30 |
| Eastern Bluebird | ** | 9/12 | 9/27 | 10/18 | 11/12 | After Nov 30 |
| Field Sparrow | *** | 9/29 | 10/8 | 10/18 | 10/30 | 11/8 |
| White-throated Sparrow | *** | 9/18 | 9/30 | 10/18 | 10/31 | 11/12 |
| Red-winged Blackbird | *** | 9/24 | 10/4 | 10/18 | 11/6 | After Nov 30 |
| Common Grackle | *** | 10/2 | 10/8 | 10/18 | 11/7 | After Nov 30 |
| Hermit Thrush | *** | 9/25 | 10/6 | 10/19 | 10/31 | 11/10 |
| Northern Harrier | ** | 8/2 | 10/9 | 10/21 | 11/2 | 11/13 |
| Vesper Sparrow | ** | 10/5 | 10/12 | 10/21 | 11/2 | 11/10 |
| Rusty Blackbird | ** | 9/19 | 10/3 | 10/23 | 11/10 | After Nov 30 |
| Green-winged Teal | *** | 8/13 | 10/11 | 10/24 | After Nov 30 | - |
| Purple Finch | ** | 9/26 | 10/8 | 10/24 | 11/8 | After Nov 30 |
| American Pipit | ** | 9/10 | 9/22 | 10/24 | 11/11 | 11/25 |
| Northern Pintail | * | 9/5 | 10/12 | 10/27 | 11/7 | After Nov 30 |
| American Wigeon | * | 9/23 | 10/8 | 10/28 | 11/10 | 11/29 |
| Pine Siskin | ** | 9/27 | 10/10 | 10/28 | 11/11 | After Nov 30 |
Ending Departures
| Species | Noticeability | Migrants Begin Arriving | Rapid Migrant Influx | Peak | Rapid Migrant Departure | Last Migrants Depart |
| --- | --- | --- | --- | --- | --- | --- |
| Black Skimmer | * | - | - | Before Aug 1 | 8/3 | 10/28 |
| Little Blue Heron | * | - | 8/2 | 8/9 | 8/25 | 10/24 |
| Black-crowned Night-Heron | * | - | 8/2 | 8/9 | 8/25 | 10/27 |
| Northern Rough-winged Swallow | ** | - | - | Before Aug 1 | 8/25 | 10/25 |
| Black-bellied Plover | * | - | 8/2 | 8/18 | 8/27 | After Nov 30 |
| Pectoral Sandpiper | ** | 8/11 | 8/17 | 8/23 | 9/7 | 11/13 |
| Caspian Tern | ** | - | 8/2 | 8/20 | 9/12 | 10/22 |
| Cedar Waxwing | *** | - | 8/2 | 8/17 | 9/25 | After Nov 30 |
| Forster's Tern | * | - | 8/2 | 8/16 | 9/26 | After Nov 30 |
| House Wren | *** | 8/30 | 9/5 | 9/15 | 10/7 | 10/21 |
| Blackpoll Warbler | *** | 8/28 | 9/7 | 9/22 | 10/8 | 10/23 |
| Gray Catbird | *** | 8/28 | 9/8 | 9/18 | 10/9 | 10/22 |
| Common Yellowthroat | *** | 8/24 | 9/2 | 9/17 | 10/9 | 10/23 |
| Yellow-crowned Night-Heron | * | - | 8/2 | 8/6 | 10/10 | 10/28 |
| Northern Flicker | *** | 8/30 | 9/12 | 9/25 | 10/10 | 10/30 |
| Nashville Warbler | *** | 8/23 | 9/3 | 9/20 | 10/10 | 10/22 |
| Sora | * | 8/12 | 8/21 | 9/24 | 10/12 | 10/25 |
| Pine Warbler | *** | 8/23 | 9/4 | 9/21 | 10/12 | 10/26 |
| Indigo Bunting | *** | 9/10 | 9/16 | 9/25 | 10/12 | 10/21 |
| Black-throated Blue Warbler | *** | 8/23 | 9/2 | 9/25 | 10/14 | 10/23 |
| Belted Kingfisher | *** | - | 8/2 | 9/19 | 10/16 | 10/29 |
| Yellow-bellied Sapsucker | *** | 9/16 | 9/25 | 10/5 | 10/16 | 10/24 |
| Snowy Egret | ** | - | 8/2 | 8/11 | 10/17 | 10/31 |
| Peregrine Falcon | *** | 8/2 | 9/23 | 10/4 | 10/17 | 10/28 |
| Red-breasted Nuthatch | * | 8/12 | 9/4 | 10/2 | 10/17 | After Nov 30 |
| Marsh Wren | ** | 9/7 | 9/19 | 9/30 | 10/17 | 10/29 |
| Eastern Phoebe | *** | 9/9 | 9/18 | 9/30 | 10/18 | 11/3 |
| Osprey | *** | - | 8/2 | 8/15 | 10/19 | 11/4 |
| Blue-headed Vireo | *** | 9/8 | 9/21 | 10/4 | 10/19 | 10/31 |
| Lincoln's Sparrow | *** | 9/10 | 9/22 | 10/5 | 10/19 | 10/31 |
| Great Blue Heron | *** | - | 8/2 | 8/15 | 10/20 | After Nov 30 |
| Palm Warbler | *** | 9/2 | 9/21 | 10/6 | 10/21 | 11/1 |
| Blue-winged Teal | *** | 8/2 | 8/19 | 9/7 | 10/22 | 11/5 |
| Great Egret | *** | - | 8/2 | 8/13 | 10/22 | 11/5 |
| American Kestrel | *** | 8/29 | 9/6 | 9/26 | 10/22 | 11/2 |
| Eastern Towhee | *** | 9/23 | 9/30 | 10/9 | 10/23 | 11/3 |
| Brown Creeper | ** | 9/19 | 9/29 | 10/14 | 10/24 | 11/5 |
| Killdeer | *** | - | - | Before Aug 1 | 10/25 | 11/24 |
| Tree Swallow | *** | - | 8/2 | 8/9 | 10/25 | 11/6 |
| Merlin | *** | 8/26 | 9/4 | 9/20 | 10/26 | 11/6 |
| Yellow-rumped Warbler | *** | 9/19 | 9/29 | 10/12 | 10/26 | 11/7 |
| Turkey Vulture | *** | 8/28 | 9/6 | 9/19 | 10/27 | After Nov 30 |
| Swamp Sparrow | *** | 9/20 | 9/30 | 10/13 | 10/27 | 11/10 |
| White-crowned Sparrow | *** | 9/23 | 10/2 | 10/15 | 10/27 | 11/6 |
| Cooper's Hawk | *** | 8/2 | 9/7 | 10/11 | 10/28 | 11/8 |
| Winter Wren | ** | 9/17 | 9/28 | 10/15 | 10/28 | 11/8 |
| Ruby-crowned Kinglet | *** | 9/18 | 9/30 | 10/14 | 10/28 | 11/8 |
| Song Sparrow | *** | 9/19 | 10/1 | 10/14 | 10/28 | 11/10 |
Gulf Coast and Southeast
Species on the Move
| Species | Noticeability | Migrants Begin Arriving | Rapid Migrant Influx | Peak | Rapid Migrant Departure | Last Migrants Depart |
| --- | --- | --- | --- | --- | --- | --- |
| Great Blue Heron | *** | 8/2 | 11/5 | 11/16 | After Nov 30 | - |
| American Avocet | * | 8/2 | 10/22 | 11/7 | After Nov 30 | - |
| Northern Harrier | *** | 9/16 | 10/27 | 11/16 | After Nov 30 | - |
| Herring Gull | ** | 9/22 | 11/29 | After Nov 30 | - | - |
| Pied-billed Grebe | *** | 9/25 | 10/31 | 11/20 | After Nov 30 | - |
| American White Pelican | *** | 9/29 | 10/30 | 11/15 | 11/21 | After Nov 30 |
| Red-tailed Hawk | *** | 10/1 | 10/26 | 11/20 | After Nov 30 | - |
| Sandhill Crane | ** | 10/8 | 10/29 | After Nov 30 | - | - |
| American Wigeon | *** | 10/10 | 10/30 | 11/18 | After Nov 30 | - |
| Dunlin | *** | 10/10 | 10/26 | 11/12 | After Nov 30 | - |
| Green-winged Teal | *** | 10/11 | 11/4 | 11/18 | After Nov 30 | - |
| Vesper Sparrow | *** | 10/12 | 10/23 | 11/7 | 11/15 | 11/22 |
| Chipping Sparrow | *** | 10/13 | 10/24 | After Nov 30 | - | - |
| Franklin's Gull | ** | 10/14 | 10/26 | 11/7 | 11/25 | After Nov 30 |
| Field Sparrow | *** | 10/14 | 10/25 | 11/14 | After Nov 30 | - |
| Pine Siskin | ** | 10/14 | 10/30 | After Nov 30 | - | - |
| Hermit Thrush | *** | 10/15 | 10/25 | 11/11 | 11/17 | 11/21 |
| Gadwall | *** | 10/17 | 10/30 | 11/19 | After Nov 30 | - |
| Orange-crowned Warbler | *** | 10/17 | 10/28 | 11/10 | 11/18 | 11/24 |
| Northern Pintail | *** | 10/18 | 10/31 | 11/18 | After Nov 30 | - |
| Ruddy Duck | *** | 10/18 | 11/1 | 11/19 | After Nov 30 | - |
| Common Gallinule | *** | 10/18 | 10/28 | 11/11 | 11/19 | After Nov 30 |
| Common Gallinule | *** | 10/18 | 10/28 | 11/11 | 11/19 | After Nov 30 |
| Dark-eyed Junco | *** | 10/18 | 11/2 | After Nov 30 | - | - |
| Northern Gannet | * | 10/19 | 11/4 | After Nov 30 | - | - |
| Ring-necked Duck | *** | 10/20 | 11/5 | 11/23 | After Nov 30 | - |
| Redhead | *** | 10/21 | 11/3 | 11/19 | After Nov 30 | - |
| Eared Grebe | * | 10/21 | 11/4 | 11/24 | After Nov 30 | - |
| Black-necked Stilt | ** | 10/21 | 10/29 | 11/9 | After Nov 30 | - |
| Northern Shoveler | *** | 10/22 | 11/4 | 11/19 | After Nov 30 | - |
| American Pipit | *** | 10/22 | 11/4 | 11/20 | After Nov 30 | - |
| Snow Goose | *** | 10/23 | 11/5 | After Nov 30 | - | - |
| Black-bellied Whistling-Duck | ** | 10/24 | 10/30 | 11/9 | After Nov 30 | - |
| Ross's Goose | * | 10/24 | 11/7 | After Nov 30 | - | - |
| Common Loon | *** | 10/27 | 11/8 | After Nov 30 | - | - |
| Canvasback | ** | 10/28 | 11/8 | After Nov 30 | - | - |
Peaking Arrivals
| Species | Noticeability | Migrants Begin Arriving | Rapid Migrant Influx | Peak | Rapid Migrant Departure | Last Migrants Depart |
| --- | --- | --- | --- | --- | --- | --- |
| Black-bellied Plover | * | - | 8/2 | 10/31 | After Nov 30 | - |
| Caspian Tern | * | - | 8/2 | 11/7 | After Nov 30 | - |
| Blue-winged Teal | * | 8/8 | 8/26 | 11/8 | 11/29 | After Nov 30 |
| Bald Eagle | ** | 9/3 | 9/15 | 11/21 | After Nov 30 | - |
| Belted Kingfisher | *** | 8/13 | 9/18 | 10/22 | After Nov 30 | - |
| Sora | * | 8/29 | 9/21 | 11/7 | 11/17 | After Nov 30 |
| Sharp-shinned Hawk | ** | 9/8 | 9/24 | 10/28 | 11/15 | After Nov 30 |
| Brown-headed Cowbird | ** | 9/15 | 9/27 | 10/23 | After Nov 30 | - |
| American Kestrel | *** | 9/12 | 9/29 | 11/12 | After Nov 30 | - |
| Black Vulture | ** | 8/28 | 9/30 | 11/18 | After Nov 30 | - |
| Tree Swallow | ** | 9/24 | 10/3 | 11/2 | 11/14 | 11/22 |
| Marsh Wren | ** | 9/20 | 10/3 | 11/1 | 11/18 | After Nov 30 |
| Lincoln's Sparrow | ** | 9/23 | 10/4 | 10/31 | 11/13 | 11/21 |
| Red-winged Blackbird | *** | 9/22 | 10/4 | 11/9 | After Nov 30 | - |
| House Wren | *** | 9/23 | 10/6 | 10/28 | 11/12 | After Nov 30 |
| American Bittern | * | 9/14 | 10/9 | 11/12 | After Nov 30 | - |
| Eastern Phoebe | *** | 9/25 | 10/9 | 10/30 | After Nov 30 | - |
| Common Grackle | *** | 9/29 | 10/9 | 10/21 | After Nov 30 | - |
| Yellow-bellied Sapsucker | *** | 9/30 | 10/9 | 10/24 | 10/31 | 11/6 |
| Double-crested Cormorant | *** | 9/27 | 10/11 | 11/22 | After Nov 30 | - |
| Red-breasted Nuthatch | * | 10/2 | 10/11 | 10/23 | After Nov 30 | - |
| Sedge Wren | * | 9/28 | 10/11 | 11/2 | After Nov 30 | - |
| Ruby-crowned Kinglet | *** | 9/26 | 10/14 | 11/16 | 11/24 | After Nov 30 |
| Wilson's Snipe | ** | 9/30 | 10/15 | 11/14 | After Nov 30 | - |
| Blue-headed Vireo | ** | 9/3 | 10/15 | 10/31 | 11/8 | 11/14 |
| Eastern Meadowlark | *** | 10/2 | 10/15 | 11/3 | 11/23 | After Nov 30 |
| Spotted Towhee | * | 10/5 | 10/16 | After Nov 30 | - | - |
| Winter Wren | * | 10/7 | 10/17 | After Nov 30 | - | - |
| Golden-crowned Kinglet | *** | 10/7 | 10/17 | 11/15 | After Nov 30 | - |
| Brown Creeper | * | 10/6 | 10/18 | 11/23 | After Nov 30 | - |
| Yellow-rumped Warbler | *** | 10/6 | 10/18 | After Nov 30 | - | - |
| Song Sparrow | *** | 10/7 | 10/19 | 11/17 | After Nov 30 | - |
| White-throated Sparrow | *** | 10/9 | 10/19 | 11/18 | After Nov 30 | - |
| Western Meadowlark | * | 10/2 | 10/19 | 11/12 | After Nov 30 | - |
| Savannah Sparrow | *** | 10/5 | 10/20 | 11/10 | 11/27 | After Nov 30 |
| American Avocet | * | 8/2 | 10/22 | 11/7 | After Nov 30 | - |
| Vesper Sparrow | ** | 10/12 | 10/23 | 11/7 | 11/15 | 11/22 |
| Chipping Sparrow | *** | 10/13 | 10/24 | After Nov 30 | - | - |
| Hermit Thrush | *** | 10/15 | 10/25 | 11/11 | 11/17 | 11/21 |
| Field Sparrow | *** | 10/14 | 10/25 | 11/14 | After Nov 30 | - |
| Red-tailed Hawk | *** | 10/1 | 10/26 | 11/20 | After Nov 30 | - |
| Dunlin | ** | 10/10 | 10/26 | 11/12 | After Nov 30 | - |
| Franklin's Gull | * | 10/14 | 10/26 | 11/7 | 11/25 | After Nov 30 |
| Northern Harrier | *** | 9/16 | 10/27 | 11/16 | After Nov 30 | - |
| Common Gallinule | ** | 10/18 | 10/28 | 11/11 | 11/19 | After Nov 30 |
| Common Gallinule | ** | 10/18 | 10/28 | 11/11 | 11/19 | After Nov 30 |
| Orange-crowned Warbler | *** | 10/17 | 10/28 | 11/10 | 11/18 | 11/24 |
Beginning Departures
| Species | Noticeability | Migrants Begin Arriving | Rapid Migrant Influx | Peak | Rapid Migrant Departure | Last Migrants Depart |
| --- | --- | --- | --- | --- | --- | --- |
| Piping Plover | * | - | 8/2 | 8/20 | After Nov 30 | - |
| Red-headed Woodpecker | ** | 8/22 | 9/4 | 9/18 | 10/26 | 11/5 |
| Northern Parula | *** | 8/11 | 9/2 | 9/19 | 10/24 | 11/4 |
| Black-and-white Warbler | *** | 8/22 | 9/5 | 9/22 | 10/25 | 11/5 |
| Ovenbird | *** | 8/26 | 9/11 | 9/25 | 10/25 | 11/5 |
| Cape May Warbler | * | 9/3 | 9/12 | 9/25 | 10/28 | 11/5 |
| Tennessee Warbler | *** | 8/31 | 9/11 | 10/3 | 10/23 | 11/3 |
| Nashville Warbler | ** | 8/30 | 9/11 | 10/4 | 10/24 | 11/12 |
| Clay-colored Sparrow | * | 9/2 | 9/16 | 10/4 | 10/21 | 11/6 |
| Brown Thrasher | *** | 9/2 | 9/22 | 10/6 | 10/21 | 11/3 |
| Common Yellowthroat | *** | 9/1 | 9/17 | 10/6 | 10/21 | 11/2 |
| Scissor-tailed Flycatcher | *** | 9/8 | 9/23 | 10/7 | 11/3 | 11/23 |
| Merlin | * | 9/8 | 9/18 | 10/9 | 11/2 | 11/16 |
| Pine Warbler | *** | 8/15 | 9/1 | 10/9 | 10/26 | 11/3 |
| Gray Catbird | *** | 9/16 | 9/27 | 10/10 | 10/23 | 11/6 |
| Northern Mockingbird | *** | 9/7 | 9/23 | 10/10 | 10/26 | 11/22 |
| Black-throated Green Warbler | *** | 8/28 | 9/6 | 10/10 | 10/25 | 11/6 |
| Black-throated Blue Warbler | *** | 8/31 | 9/11 | 10/11 | 10/27 | 11/5 |
| Indigo Bunting | *** | 9/21 | 9/30 | 10/11 | 10/25 | 11/5 |
| Northern Rough-winged Swallow | ** | 9/25 | 10/3 | 10/13 | 11/2 | 11/20 |
| Painted Bunting | ** | 9/28 | 10/4 | 10/14 | 10/29 | 11/9 |
| Cooper's Hawk | ** | 8/2 | 9/21 | 10/17 | After Nov 30 | - |
| Northern Flicker | *** | 9/18 | 10/1 | 10/17 | 10/29 | 11/8 |
| Eastern Towhee | *** | 9/10 | 10/10 | 10/19 | 11/1 | 11/12 |
| Palm Warbler | *** | 9/15 | 10/5 | 10/20 | 10/31 | 11/7 |
| Common Grackle | *** | 9/29 | 10/9 | 10/21 | After Nov 30 | - |
| Belted Kingfisher | ** | 8/13 | 9/18 | 10/22 | After Nov 30 | - |
| Red-breasted Nuthatch | * | 10/2 | 10/11 | 10/23 | After Nov 30 | - |
| Brown-headed Cowbird | * | 9/15 | 9/27 | 10/23 | After Nov 30 | - |
| Yellow-bellied Sapsucker | *** | 9/30 | 10/9 | 10/24 | 10/31 | 11/6 |
| Sharp-shinned Hawk | ** | 9/8 | 9/24 | 10/28 | 11/15 | After Nov 30 |
| House Wren | *** | 9/23 | 10/6 | 10/28 | 11/12 | After Nov 30 |
Ending Departures
| Species | Noticeability | Migrants Begin Arriving | Rapid Migrant Influx | Peak | Rapid Migrant Departure | Last Migrants Depart |
| --- | --- | --- | --- | --- | --- | --- |
| Blue Grosbeak | ** | - | - | Before Aug 1 | 8/24 | 10/28 |
| Sandwich Tern | * | - | 8/2 | 8/16 | 8/27 | After Nov 30 |
| Barn Swallow | *** | - | 8/2 | 8/10 | 9/9 | 11/14 |
| Least Sandpiper | * | - | 8/2 | 8/25 | 9/15 | After Nov 30 |
| Western Sandpiper | * | 8/2 | 8/17 | 8/31 | 9/15 | After Nov 30 |
| Cave Swallow | * | 8/2 | 8/28 | 9/4 | 9/16 | 11/21 |
| Dickcissel | * | 8/21 | 8/29 | 9/5 | 9/20 | 10/25 |
| Common Tern | * | - | 8/2 | 8/18 | 9/30 | 11/10 |
| Blackburnian Warbler | ** | 8/26 | 9/5 | 9/18 | 10/3 | 10/28 |
| Hooded Warbler | *** | 8/8 | 8/20 | 9/20 | 10/5 | 10/29 |
| Yellow-crowned Night-Heron | * | - | - | Before Aug 1 | 10/8 | 10/23 |
| Red-eyed Vireo | *** | 8/20 | 9/3 | 9/17 | 10/8 | 10/24 |
| Chestnut-sided Warbler | *** | 8/23 | 9/6 | 9/22 | 10/9 | 10/23 |
| Chimney Swift | *** | 8/23 | 9/5 | 9/21 | 10/11 | 10/22 |
| White-eyed Vireo | *** | 8/21 | 9/2 | 9/19 | 10/13 | 10/28 |
| Swainson's Thrush | *** | 9/8 | 9/17 | 9/29 | 10/13 | 10/23 |
| Bobolink | * | 8/21 | 9/2 | 9/20 | 10/13 | 10/26 |
| Prairie Warbler | *** | 8/2 | 9/7 | 9/22 | 10/14 | 11/3 |
| Scarlet Tanager | *** | 8/30 | 9/12 | 9/28 | 10/14 | 10/25 |
| Wood Thrush | *** | 9/10 | 9/21 | 10/2 | 10/15 | 10/25 |
| Swainson's Hawk | * | - | 8/2 | 10/2 | 10/16 | 10/28 |
| Rose-breasted Grosbeak | *** | 9/12 | 9/21 | 10/4 | 10/16 | 10/26 |
| Eastern Wood-Pewee | *** | 8/19 | 9/1 | 9/17 | 10/17 | 11/2 |
| Peregrine Falcon | *** | 9/15 | 9/25 | 10/7 | 10/18 | 10/26 |
| American Redstart | *** | 8/31 | 9/12 | 9/26 | 10/19 | 11/2 |
| Magnolia Warbler | *** | 8/31 | 9/13 | 10/1 | 10/19 | 10/31 |
| Yellow-throated Warbler | *** | 8/2 | 9/3 | 9/25 | 10/20 | 11/4 |
| Brown Thrasher | *** | 9/2 | 9/22 | 10/6 | 10/21 | 11/3 |
| Common Yellowthroat | *** | 9/1 | 9/17 | 10/6 | 10/21 | 11/2 |
| Clay-colored Sparrow | * | 9/2 | 9/16 | 10/4 | 10/21 | 11/6 |
| Gray Catbird | *** | 9/16 | 9/27 | 10/10 | 10/23 | 11/6 |
| Tennessee Warbler | *** | 8/31 | 9/11 | 10/3 | 10/23 | 11/3 |
| Nashville Warbler | *** | 8/30 | 9/11 | 10/4 | 10/24 | 11/12 |
| Northern Parula | *** | 8/11 | 9/2 | 9/19 | 10/24 | 11/4 |
| Ovenbird | *** | 8/26 | 9/11 | 9/25 | 10/25 | 11/5 |
| Black-and-white Warbler | *** | 8/22 | 9/5 | 9/22 | 10/25 | 11/5 |
| Black-throated Green Warbler | *** | 8/28 | 9/6 | 10/10 | 10/25 | 11/6 |
| Indigo Bunting | *** | 9/21 | 9/30 | 10/11 | 10/25 | 11/5 |
| Red-headed Woodpecker | ** | 8/22 | 9/4 | 9/18 | 10/26 | 11/5 |
| Northern Mockingbird | *** | 9/7 | 9/23 | 10/10 | 10/26 | 11/22 |
| Pine Warbler | *** | 8/15 | 9/1 | 10/9 | 10/26 | 11/3 |
| Black-throated Blue Warbler | *** | 8/31 | 9/11 | 10/11 | 10/27 | 11/5 |
| Cape May Warbler | ** | 9/3 | 9/12 | 9/25 | 10/28 | 11/5 |
Great Plains
Species on the Move
| Species | Noticeability | Migrants Begin Arriving | Rapid Migrant Influx | Peak | Rapid Migrant Departure | Last Migrants Depart |
| --- | --- | --- | --- | --- | --- | --- |
| Purple Finch | * | 8/2 | 10/27 | After Nov 30 | - | - |
| Herring Gull | *** | 9/30 | 10/24 | After Nov 30 | - | - |
| Horned Grebe | *** | 10/8 | 10/21 | 11/6 | 11/22 | After Nov 30 |
| Northern Pintail | *** | 10/10 | 10/23 | 11/6 | After Nov 30 | - |
| Ring-billed Gull | *** | 10/11 | 10/23 | 11/10 | After Nov 30 | - |
| Rough-legged Hawk | *** | 10/12 | 10/29 | After Nov 30 | - | - |
| Ruddy Duck | ****! | 10/13 | 10/24 | 11/6 | 11/21 | After Nov 30 |
| Mallard | ****! | 10/14 | 10/31 | 11/17 | After Nov 30 | - |
| Ring-necked Duck | *** | 10/16 | 10/25 | 11/5 | 11/14 | 11/19 |
| Common Loon | *** | 10/16 | 10/27 | 11/11 | After Nov 30 | - |
| Bonaparte's Gull | *** | 10/16 | 10/28 | 11/12 | After Nov 30 | - |
| Redhead | *** | 10/17 | 10/26 | 11/8 | 11/20 | After Nov 30 |
| Bald Eagle | *** | 10/17 | 11/10 | After Nov 30 | - | - |
| Northern Shoveler | ****! | 10/19 | 10/27 | 11/7 | 11/19 | After Nov 30 |
| Canvasback | *** | 10/19 | 10/28 | 11/10 | After Nov 30 | - |
| Lesser Scaup | ****! | 10/21 | 10/30 | 11/12 | After Nov 30 | - |
| Snow Goose | *** | 10/23 | 11/3 | 11/19 | After Nov 30 | - |
| Hooded Merganser | *** | 10/23 | 11/3 | 11/17 | After Nov 30 | - |
| Ross's Goose | *** | 10/25 | 11/5 | 11/22 | After Nov 30 | - |
| Greater Scaup | ** | 10/26 | 11/5 | 11/16 | After Nov 30 | - |
Peaking Arrivals
| Species | Noticeability | Migrants Begin Arriving | Rapid Migrant Influx | Peak | Rapid Migrant Departure | Last Migrants Depart |
| --- | --- | --- | --- | --- | --- | --- |
| Greater Yellowlegs | * | - | 8/2 | 10/27 | 11/16 | After Nov 30 |
| Merlin | * | 8/19 | 9/6 | 10/24 | 11/8 | 11/24 |
| Pied-billed Grebe | *** | 9/3 | 9/16 | 10/30 | 11/13 | 11/29 |
| Double-crested Cormorant | *** | 9/10 | 9/26 | 10/23 | After Nov 30 | - |
| Red-winged Blackbird | *** | 9/12 | 9/26 | 10/22 | After Nov 30 | - |
| Red-tailed Hawk | *** | 9/5 | 9/27 | 10/27 | 11/9 | After Nov 30 |
| Yellow-bellied Sapsucker | * | 9/12 | 9/27 | After Nov 30 | - | - |
| Brown Creeper | ** | 9/18 | 10/5 | After Nov 30 | - | - |
| American Pipit | *** | 9/17 | 10/6 | 10/24 | 11/12 | After Nov 30 |
| Song Sparrow | *** | 9/26 | 10/8 | 10/24 | 11/6 | 11/17 |
| Pine Siskin | ** | 9/26 | 10/9 | 11/2 | After Nov 30 | - |
| Northern Harrier | *** | 9/12 | 10/11 | 10/28 | 11/12 | After Nov 30 |
| Golden-crowned Kinglet | ** | 9/25 | 10/12 | 11/5 | 11/15 | After Nov 30 |
| Dark-eyed Junco | ****! | 9/29 | 10/14 | 11/20 | After Nov 30 | - |
| Western Grebe | * | 9/6 | 10/17 | 10/31 | After Nov 30 | - |
| Greater White-fronted Goose | *** | 10/5 | 10/18 | 11/5 | 11/24 | After Nov 30 |
| Sandhill Crane | *** | 10/7 | 10/18 | 10/31 | 11/13 | After Nov 30 |
| Gadwall | *** | 10/9 | 10/20 | 11/7 | After Nov 30 | - |
| American Wigeon | *** | 10/4 | 10/20 | 11/4 | 11/20 | After Nov 30 |
| Green-winged Teal | *** | 10/5 | 10/20 | 11/5 | After Nov 30 | - |
| Horned Grebe | *** | 10/8 | 10/21 | 11/6 | 11/22 | After Nov 30 |
| Northern Pintail | *** | 10/10 | 10/23 | 11/6 | After Nov 30 | - |
| Ring-billed Gull | *** | 10/11 | 10/23 | 11/10 | After Nov 30 | - |
| Ruddy Duck | *** | 10/13 | 10/24 | 11/6 | 11/21 | After Nov 30 |
| Herring Gull | ** | 9/30 | 10/24 | After Nov 30 | - | - |
| Ring-necked Duck | *** | 10/16 | 10/25 | 11/5 | 11/14 | 11/19 |
| Redhead | *** | 10/17 | 10/26 | 11/8 | 11/20 | After Nov 30 |
| Northern Shoveler | *** | 10/19 | 10/27 | 11/7 | 11/19 | After Nov 30 |
| Common Loon | *** | 10/16 | 10/27 | 11/11 | After Nov 30 | - |
| Purple Finch | * | 8/2 | 10/27 | After Nov 30 | - | - |
| Canvasback | *** | 10/19 | 10/28 | 11/10 | After Nov 30 | - |
| Bonaparte's Gull | *** | 10/16 | 10/28 | 11/12 | After Nov 30 | - |
Beginning Departures
| Species | Noticeability | Migrants Begin Arriving | Rapid Migrant Influx | Peak | Rapid Migrant Departure | Last Migrants Depart |
| --- | --- | --- | --- | --- | --- | --- |
| Killdeer | *** | - | - | Before Aug 1 | 11/4 | After Nov 30 |
| Wood Duck | ** | - | 8/2 | 8/20 | 10/28 | After Nov 30 |
| Blue-winged Teal | *** | 8/2 | 8/10 | 9/13 | 10/24 | 11/10 |
| Cooper's Hawk | ** | 8/2 | 9/5 | 9/24 | 10/24 | 11/8 |
| Red-shouldered Hawk | * | 8/2 | 9/7 | 9/29 | 10/28 | 11/25 |
| Northern Flicker | *** | 9/7 | 9/16 | 10/1 | 11/4 | 11/13 |
| Chipping Sparrow | *** | 9/20 | 9/24 | 10/1 | 11/1 | 11/13 |
| Common Grackle | *** | 9/13 | 9/20 | 10/6 | 10/29 | After Nov 30 |
| Ruby-crowned Kinglet | *** | 9/7 | 9/21 | 10/8 | 10/24 | 11/8 |
| Sedge Wren | *** | 9/19 | 9/28 | 10/9 | 10/21 | 10/31 |
| Marsh Wren | *** | 9/14 | 9/27 | 10/9 | 10/23 | 11/5 |
| Spotted Towhee | *** | 9/9 | 9/23 | 10/9 | 10/25 | 11/6 |
| Vesper Sparrow | *** | 9/7 | 9/23 | 10/10 | 10/27 | 11/6 |
| Nelson's Sparrow | ** | 9/23 | 9/30 | 10/10 | 10/21 | 10/29 |
| Sprague's Pipit | * | 9/19 | 9/29 | 10/11 | 10/25 | 11/6 |
| Yellow-rumped Warbler | *** | 9/15 | 9/26 | 10/11 | 10/24 | 11/15 |
| Lincoln's Sparrow | *** | 9/6 | 9/21 | 10/11 | 10/29 | 11/10 |
| Savannah Sparrow | *** | 9/13 | 10/3 | 10/15 | 10/29 | 11/8 |
| White-throated Sparrow | *** | 9/16 | 9/28 | 10/15 | 11/6 | 11/17 |
| Western Meadowlark | *** | 8/2 | 9/9 | 10/15 | 10/29 | 11/7 |
| Franklin's Gull | *** | 9/3 | 9/16 | 10/16 | 11/7 | After Nov 30 |
| Le Conte's Sparrow | *** | 9/25 | 10/4 | 10/16 | 10/28 | 11/7 |
| Swamp Sparrow | *** | 9/21 | 10/2 | 10/16 | 11/2 | 11/14 |
| Sharp-shinned Hawk | ** | 8/31 | 10/2 | 10/17 | 10/28 | After Nov 30 |
| Eastern Meadowlark | *** | 9/21 | 10/1 | 10/17 | 11/7 | 11/19 |
| American White Pelican | *** | 8/2 | 9/8 | 10/18 | After Nov 30 | - |
| Wilson's Snipe | ** | 8/2 | 10/3 | 10/18 | 11/3 | 11/16 |
| Field Sparrow | *** | 9/20 | 10/4 | 10/18 | 11/4 | 11/15 |
| American Avocet | *** | 9/23 | 10/5 | 10/20 | 11/12 | After Nov 30 |
| Red-winged Blackbird | *** | 9/12 | 9/26 | 10/22 | After Nov 30 | - |
| Double-crested Cormorant | *** | 9/10 | 9/26 | 10/23 | After Nov 30 | - |
| Merlin | * | 8/19 | 9/6 | 10/24 | 11/8 | 11/24 |
| American Pipit | *** | 9/17 | 10/6 | 10/24 | 11/12 | After Nov 30 |
| Song Sparrow | *** | 9/26 | 10/8 | 10/24 | 11/6 | 11/17 |
| Red-tailed Hawk | ** | 9/5 | 9/27 | 10/27 | 11/9 | After Nov 30 |
| Greater Yellowlegs | ** | - | 8/2 | 10/27 | 11/16 | After Nov 30 |
| Northern Harrier | *** | 9/12 | 10/11 | 10/28 | 11/12 | After Nov 30 |
Ending Departures
| Species | Noticeability | Migrants Begin Arriving | Rapid Migrant Influx | Peak | Rapid Migrant Departure | Last Migrants Depart |
| --- | --- | --- | --- | --- | --- | --- |
| Black-bellied Plover | * | - | 8/2 | 8/21 | 9/1 | 11/21 |
| Pectoral Sandpiper | ** | - | - | Before Aug 1 | 9/2 | 10/23 |
| Tree Swallow | ** | - | - | Before Aug 1 | 9/9 | 11/1 |
| Lesser Yellowlegs | ** | - | 8/2 | 8/20 | 9/13 | 11/8 |
| Black-crowned Night-Heron | * | - | 8/2 | 8/27 | 9/27 | 10/28 |
| Blue-headed Vireo | *** | 8/25 | 9/2 | 9/16 | 9/28 | 10/24 |
| Cattle Egret | * | - | - | Before Aug 1 | 10/1 | 11/2 |
| White-faced Ibis | * | - | 8/2 | 9/1 | 10/2 | 10/30 |
| Tennessee Warbler | * | 8/2 | 8/9 | 9/9 | 10/3 | 10/23 |
| Mourning Dove | *** | - | 8/2 | 8/17 | 10/4 | 10/25 |
| Snowy Egret | ** | - | 8/2 | 8/20 | 10/5 | 10/26 |
| Osprey | *** | 8/28 | 9/9 | 9/23 | 10/6 | 11/11 |
| Sanderling | * | 8/2 | 8/20 | 9/6 | 10/7 | 10/26 |
| Northern Rough-winged Swallow | ** | - | - | Before Aug 1 | 10/7 | 10/23 |
| Peregrine Falcon | * | 8/2 | 9/13 | 9/24 | 10/9 | 10/23 |
| American Golden-Plover | * | 8/12 | 9/22 | 9/30 | 10/12 | 11/16 |
| Eastern Phoebe | *** | 9/1 | 9/13 | 9/25 | 10/12 | 10/25 |
| Common Yellowthroat | *** | 8/30 | 9/6 | 9/20 | 10/12 | 10/21 |
| Indigo Bunting | *** | 9/7 | 9/11 | 9/20 | 10/12 | 10/21 |
| Black-throated Green Warbler | * | 8/20 | 9/2 | 9/22 | 10/13 | 10/28 |
| Swainson's Hawk | *** | - | 8/2 | 9/11 | 10/14 | 10/22 |
| Nashville Warbler | *** | 8/27 | 9/5 | 9/22 | 10/14 | 10/24 |
| Turkey Vulture | *** | 8/2 | 9/4 | 9/27 | 10/16 | 10/25 |
| Clay-colored Sparrow | *** | 8/20 | 9/3 | 9/24 | 10/16 | 10/30 |
| Orange-crowned Warbler | *** | 9/5 | 9/21 | 10/4 | 10/17 | 10/28 |
| Scissor-tailed Flycatcher | *** | 9/6 | 9/16 | 9/27 | 10/19 | 11/1 |
| Great Egret | *** | - | 8/2 | 9/13 | 10/20 | 11/11 |
| Sora | * | - | 8/2 | 9/27 | 10/20 | 11/4 |
| Sedge Wren | *** | 9/19 | 9/28 | 10/9 | 10/21 | 10/31 |
| Nelson's Sparrow | ** | 9/23 | 9/30 | 10/10 | 10/21 | 10/29 |
| Marsh Wren | *** | 9/14 | 9/27 | 10/9 | 10/23 | 11/5 |
| Blue-winged Teal | *** | 8/2 | 8/10 | 9/13 | 10/24 | 11/10 |
| Cooper's Hawk | ** | 8/2 | 9/5 | 9/24 | 10/24 | 11/8 |
| Ruby-crowned Kinglet | *** | 9/7 | 9/21 | 10/8 | 10/24 | 11/8 |
| Yellow-rumped Warbler | *** | 9/15 | 9/26 | 10/11 | 10/24 | 11/15 |
| Sprague's Pipit | * | 9/19 | 9/29 | 10/11 | 10/25 | 11/6 |
| Spotted Towhee | *** | 9/9 | 9/23 | 10/9 | 10/25 | 11/6 |
| Vesper Sparrow | *** | 9/7 | 9/23 | 10/10 | 10/27 | 11/6 |
| Wood Duck | ** | - | 8/2 | 8/20 | 10/28 | After Nov 30 |
| Sharp-shinned Hawk | * | 8/31 | 10/2 | 10/17 | 10/28 | After Nov 30 |
| Red-shouldered Hawk | * | 8/2 | 9/7 | 9/29 | 10/28 | 11/25 |
| Le Conte's Sparrow | *** | 9/25 | 10/4 | 10/16 | 10/28 | 11/7 |
West
Species on the Move
| Species | Noticeability | Migrants Begin Arriving | Rapid Migrant Influx | Peak | Rapid Migrant Departure | Last Migrants Depart |
| --- | --- | --- | --- | --- | --- | --- |
| Canada Goose | ** | 8/2 | 11/4 | After Nov 30 | - | - |
| California Gull | * | 8/2 | 10/22 | 11/7 | After Nov 30 | - |
| Ring-billed Gull | ** | 8/10 | 11/7 | 11/22 | After Nov 30 | - |
| Northern Harrier | ** | 8/17 | 11/8 | 11/20 | After Nov 30 | - |
| Sandhill Crane | * | 9/14 | 11/10 | 11/18 | After Nov 30 | - |
| Horned Grebe | ** | 9/20 | 10/21 | 11/8 | 11/15 | 11/19 |
| Mew Gull | ** | 10/1 | 10/22 | 11/20 | After Nov 30 | - |
| Gadwall | *** | 10/7 | 10/25 | 11/17 | After Nov 30 | - |
| Surf Scoter | *** | 10/7 | 10/21 | 11/10 | 11/15 | 11/18 |
| Lesser Scaup | *** | 10/8 | 10/26 | 11/19 | After Nov 30 | - |
| Canvasback | *** | 10/9 | 11/4 | 11/19 | After Nov 30 | - |
| Glaucous-winged Gull | ** | 10/10 | 10/23 | After Nov 30 | - | - |
| Common Loon | *** | 10/12 | 10/23 | 11/4 | 11/14 | 11/22 |
| Rough-legged Hawk | * | 10/12 | 11/29 | After Nov 30 | - | - |
| Pacific Loon | * | 10/14 | 10/29 | 11/24 | After Nov 30 | - |
| Bufflehead | ****! | 10/16 | 10/29 | After Nov 30 | - | - |
| Bonaparte's Gull | *** | 10/17 | 10/28 | 11/10 | After Nov 30 | - |
| Hooded Merganser | *** | 10/19 | 11/2 | After Nov 30 | - | - |
| Red-breasted Merganser | *** | 10/20 | 11/2 | 11/20 | After Nov 30 | - |
| Trumpeter Swan | * | 10/21 | 11/4 | After Nov 30 | - | - |
| Tundra Swan | ** | 10/25 | 11/6 | 11/19 | After Nov 30 | - |
| Barrow's Goldeneye | ** | 10/25 | 11/8 | After Nov 30 | - | - |
| Ferruginous Hawk | * | 10/25 | 11/6 | After Nov 30 | - | - |
Peaking Arrivals
| Species | Noticeability | Migrants Begin Arriving | Rapid Migrant Influx | Peak | Rapid Migrant Departure | Last Migrants Depart |
| --- | --- | --- | --- | --- | --- | --- |
| Belted Kingfisher | ** | - | 8/2 | 10/22 | After Nov 30 | - |
| Northern Shoveler | *** | 8/6 | 8/20 | 11/20 | After Nov 30 | - |
| Northern Pintail | ** | 8/12 | 8/20 | 11/19 | After Nov 30 | - |
| Green-winged Teal | ** | 8/2 | 8/20 | 11/17 | After Nov 30 | - |
| Black Phoebe | ** | 8/16 | 9/9 | 11/17 | After Nov 30 | - |
| Red-tailed Hawk | *** | 8/7 | 9/10 | After Nov 30 | - | - |
| American Pipit | ** | 8/31 | 9/11 | 11/15 | After Nov 30 | - |
| Say's Phoebe | ** | 9/1 | 9/13 | 11/21 | After Nov 30 | - |
| Merlin | * | 8/30 | 9/14 | 11/9 | 11/28 | After Nov 30 |
| Eared Grebe | *** | 9/2 | 9/16 | 11/11 | After Nov 30 | - |
| Marsh Wren | * | 8/21 | 9/20 | 10/29 | After Nov 30 | - |
| Varied Thrush | ** | 9/18 | 9/29 | After Nov 30 | - | - |
| Cackling Goose | ** | 9/16 | 10/3 | After Nov 30 | - | - |
| Ruby-crowned Kinglet | *** | 9/21 | 10/3 | 11/5 | 11/10 | 11/12 |
| White-throated Sparrow | * | 9/20 | 10/3 | 10/28 | 11/5 | 11/10 |
| Golden-crowned Kinglet | ** | 9/10 | 10/4 | 10/23 | 11/6 | 11/18 |
| Dark-eyed Junco | *** | 9/23 | 10/5 | 11/8 | 11/13 | 11/16 |
| Hermit Thrush | *** | 9/25 | 10/6 | 10/26 | 11/6 | 11/15 |
| Herring Gull | ** | 9/28 | 10/13 | After Nov 30 | - | - |
| Redhead | * | 10/3 | 10/14 | 11/14 | After Nov 30 | - |
| Ruddy Duck | ** | 9/21 | 10/14 | 11/18 | After Nov 30 | - |
| Western Grebe | *** | 10/3 | 10/14 | 11/2 | After Nov 30 | - |
| Dunlin | ** | 10/5 | 10/15 | 10/30 | After Nov 30 | - |
| American Wigeon | *** | 9/2 | 10/17 | 11/22 | After Nov 30 | - |
| Ring-necked Duck | *** | 9/21 | 10/17 | 11/20 | After Nov 30 | - |
| Clark's Grebe | * | 10/8 | 10/18 | 11/6 | After Nov 30 | - |
| Pied-billed Grebe | ** | 8/2 | 10/19 | 11/11 | After Nov 30 | - |
| Bald Eagle | ** | 9/26 | 10/19 | After Nov 30 | - | - |
| Greater Scaup | * | 10/8 | 10/20 | After Nov 30 | - | - |
| White-winged Scoter | * | 10/11 | 10/20 | 11/5 | 11/15 | After Nov 30 |
| Red-necked Grebe | * | 8/26 | 10/20 | 11/3 | 11/13 | 11/20 |
| Surf Scoter | ** | 10/7 | 10/21 | 11/10 | 11/15 | 11/18 |
| Horned Grebe | ** | 9/20 | 10/21 | 11/8 | 11/15 | 11/19 |
| Mew Gull | ** | 10/1 | 10/22 | 11/20 | After Nov 30 | - |
| California Gull | * | 8/2 | 10/22 | 11/7 | After Nov 30 | - |
| Common Loon | ** | 10/12 | 10/23 | 11/4 | 11/14 | 11/22 |
| Glaucous-winged Gull | ** | 10/10 | 10/23 | After Nov 30 | - | - |
| Gadwall | ** | 10/7 | 10/25 | 11/17 | After Nov 30 | - |
| Lesser Scaup | *** | 10/8 | 10/26 | 11/19 | After Nov 30 | - |
| Bonaparte's Gull | *** | 10/17 | 10/28 | 11/10 | After Nov 30 | - |
Beginning Departures
| Species | Noticeability | Migrants Begin Arriving | Rapid Migrant Influx | Peak | Rapid Migrant Departure | Last Migrants Depart |
| --- | --- | --- | --- | --- | --- | --- |
| Greater Yellowlegs | * | 8/11 | 8/18 | 8/28 | After Nov 30 | - |
| Elegant Tern | * | 8/2 | 8/21 | 9/7 | After Nov 30 | - |
| Pink-footed Shearwater | * | 8/8 | 8/27 | 9/14 | 10/25 | 11/7 |
| Blue-winged Teal | * | - | 8/2 | 9/22 | 10/23 | 11/3 |
| Savannah Sparrow | ** | 8/2 | 9/3 | 9/23 | 10/24 | 11/2 |
| Black-bellied Plover | * | 9/12 | 9/18 | 9/30 | After Nov 30 | - |
| Cooper's Hawk | * | 8/2 | 9/7 | 10/1 | 10/24 | 11/11 |
| Townsend's Warbler | ** | 8/13 | 8/30 | 10/2 | 10/22 | 11/6 |
| Red-shouldered Hawk | * | 8/17 | 9/12 | 10/3 | After Nov 30 | - |
| Lincoln's Sparrow | ** | 8/30 | 9/11 | 10/4 | 10/21 | 11/5 |
| Red-naped Sapsucker | * | 9/6 | 9/19 | 10/7 | 10/22 | 11/3 |
| Red-winged Blackbird | ** | 8/25 | 9/12 | 10/10 | 10/27 | After Nov 30 |
| White-crowned Sparrow | *** | 9/6 | 9/21 | 10/11 | 10/21 | 10/31 |
| Yellow-rumped Warbler | *** | 9/13 | 9/27 | 10/14 | 10/23 | 11/3 |
| Northern Flicker | *** | 9/5 | 9/29 | 10/16 | 11/8 | 11/22 |
| Western Meadowlark | * | 9/16 | 9/30 | 10/16 | After Nov 30 | - |
| Sharp-shinned Hawk | * | 8/23 | 9/10 | 10/19 | 11/11 | After Nov 30 |
| Golden-crowned Sparrow | * | 9/13 | 9/26 | 10/19 | 10/26 | 11/18 |
| Fox Sparrow | * | 9/9 | 9/23 | 10/20 | 11/1 | 11/8 |
| Belted Kingfisher | * | - | 8/2 | 10/22 | After Nov 30 | - |
| Golden-crowned Kinglet | * | 9/10 | 10/4 | 10/23 | 11/6 | 11/18 |
| Hermit Thrush | * | 9/25 | 10/6 | 10/26 | 11/6 | 11/15 |
| White-throated Sparrow | * | 9/20 | 10/3 | 10/28 | 11/5 | 11/10 |
Ending Departures
| Species | Noticeability | Migrants Begin Arriving | Rapid Migrant Influx | Peak | Rapid Migrant Departure | Last Migrants Depart |
| --- | --- | --- | --- | --- | --- | --- |
| Violet-green Swallow | *** | - | - | Before Aug 1 | 8/3 | 10/23 |
| Hermit Warbler | * | - | 8/2 | 8/19 | 9/3 | 10/23 |
| House Wren | *** | 8/23 | 8/31 | 9/9 | 9/21 | 10/26 |
| Sora | * | 8/21 | 9/1 | 9/13 | 9/23 | After Nov 30 |
| Marbled Godwit | * | 8/9 | 8/17 | 8/28 | 9/29 | After Nov 30 |
| American Avocet | * | 8/15 | 8/21 | 8/30 | 9/30 | After Nov 30 |
| Parasitic Jaeger | * | 8/26 | 9/6 | 9/19 | 10/1 | 10/29 |
| Black Turnstone | * | 8/6 | 8/17 | 9/21 | 10/2 | After Nov 30 |
| Heermann's Gull | * | 8/15 | 9/14 | 9/21 | 10/2 | After Nov 30 |
| Yellow Warbler | *** | - | 8/2 | 9/8 | 10/2 | 10/21 |
| Killdeer | *** | 8/2 | 8/14 | 9/7 | 10/3 | 11/3 |
| Franklin's Gull | * | - | 8/2 | 8/31 | 10/3 | 11/5 |
| Common Yellowthroat | *** | 8/18 | 8/30 | 9/15 | 10/5 | 10/27 |
| Pectoral Sandpiper | ** | 8/16 | 8/25 | 9/20 | 10/9 | 10/24 |
| Orange-crowned Warbler | *** | 8/18 | 9/1 | 9/18 | 10/15 | 10/27 |
| Mountain Bluebird | * | 9/3 | 9/8 | 9/19 | 10/17 | 10/27 |
| American Robin | * | 8/30 | 9/4 | 10/10 | 10/17 | 11/14 |
| Chipping Sparrow | *** | - | 8/2 | 9/8 | 10/18 | 11/2 |
| Clay-colored Sparrow | * | 8/17 | 8/28 | 9/14 | 10/18 | 11/6 |
| Red-breasted Nuthatch | *** | - | 8/2 | 9/7 | 10/19 | 10/30 |
| Black-throated Gray Warbler | *** | - | 8/2 | 10/4 | 10/19 | 10/29 |
| Brewer's Blackbird | * | 8/23 | 9/11 | 9/27 | 10/20 | After Nov 30 |
| Lincoln's Sparrow | ** | 8/30 | 9/11 | 10/4 | 10/21 | 11/5 |
| White-crowned Sparrow | *** | 9/6 | 9/21 | 10/11 | 10/21 | 10/31 |
| Red-naped Sapsucker | * | 9/6 | 9/19 | 10/7 | 10/22 | 11/3 |
| Townsend's Warbler | *** | 8/13 | 8/30 | 10/2 | 10/22 | 11/6 |
| Blue-winged Teal | * | - | 8/2 | 9/22 | 10/23 | 11/3 |
| Yellow-rumped Warbler | *** | 9/13 | 9/27 | 10/14 | 10/23 | 11/3 |
| Cooper's Hawk | ** | 8/2 | 9/7 | 10/1 | 10/24 | 11/11 |
| Savannah Sparrow | ** | 8/2 | 9/3 | 9/23 | 10/24 | 11/2 |
| Pink-footed Shearwater | * | 8/8 | 8/27 | 9/14 | 10/25 | 11/7 |
| Golden-crowned Sparrow | * | 9/13 | 9/26 | 10/19 | 10/26 | 11/18 |
| Red-winged Blackbird | ** | 8/25 | 9/12 | 10/10 | 10/27 | After Nov 30 |