Brief update, 20 May 2020. Reports from Cape May, NJ this morning indicate Arctic Tern, Black-legged Kittiwake, and jaegers are on the move with sustained easterly winds. Arctic Tern was also reported from the south shore of Long Island, NY, yesterday. More updates and details as we receive them.
Tropical Storm Arthur, the first named system of what is forecast to be an active tropical system season, is slowly moving northeast offshore of the Carolinas. While maintaining strict physical distancing guidelines and also the utmost care in adhering to all local weather warnings for safety, those observers along the immediate mid Atlantic to New England coasts may see an array of seabirds displaced to shore by the winds with this system.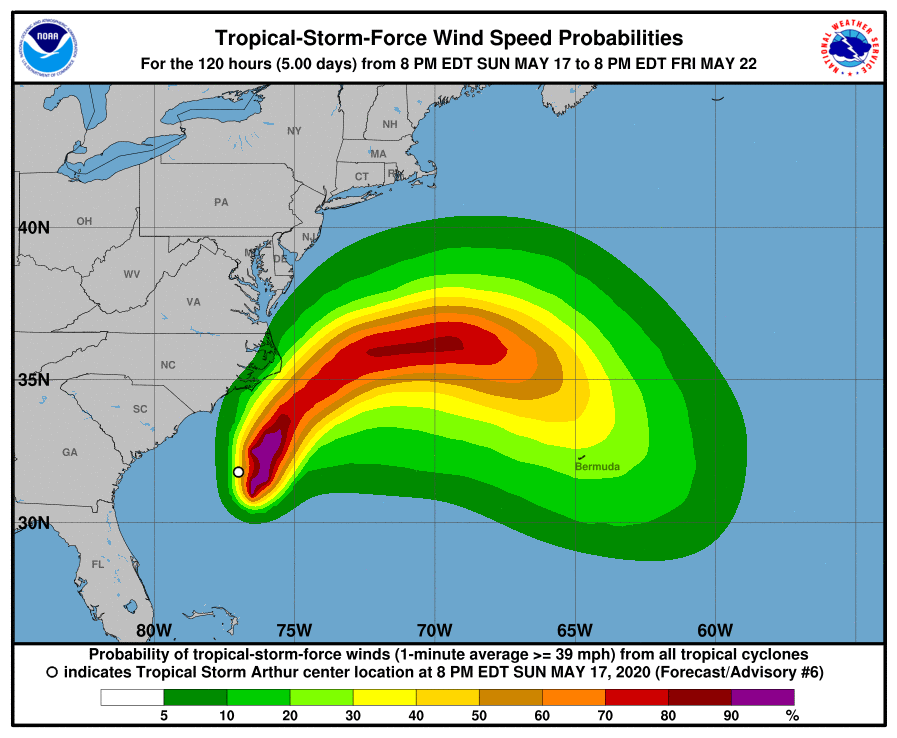 Although the storm is not predicted to make landfall, winds associated with the system's circulation will impact the coastal US from the Carolinas through southern New England in the coming days. These winds, depending on location, may be sustained at 20-30 knots for one to three days.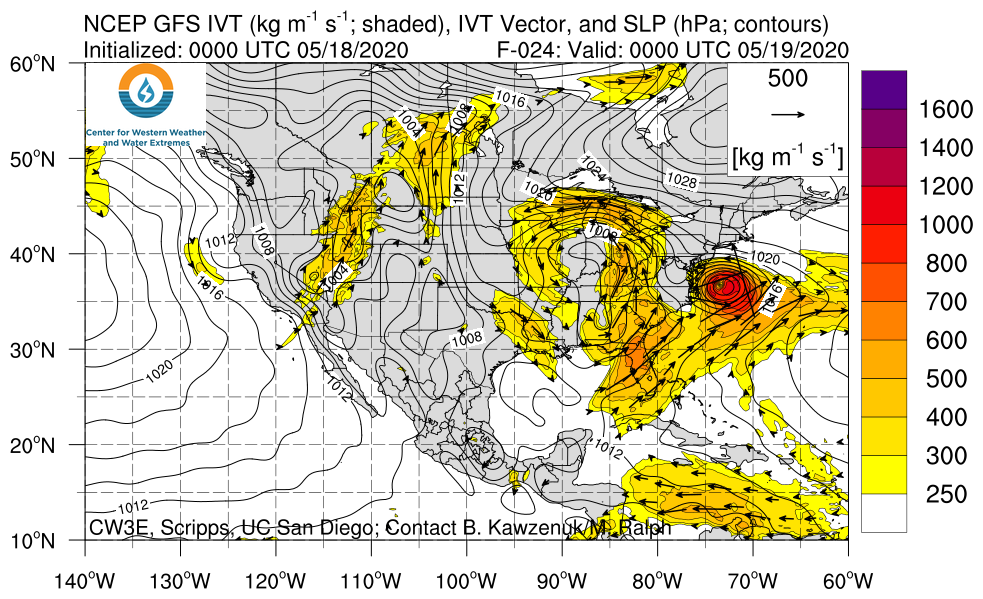 This imagery above for evening 18 May 2020 highlights the moisture, measures of water vapor, aloft as well as the pattern of general circulation of wind and pressure. Tropical Storm Arthur is visible off the mid Atlantic US, and to its north the tight lines of constant pressure highlight strong easterly flow (winds from the east).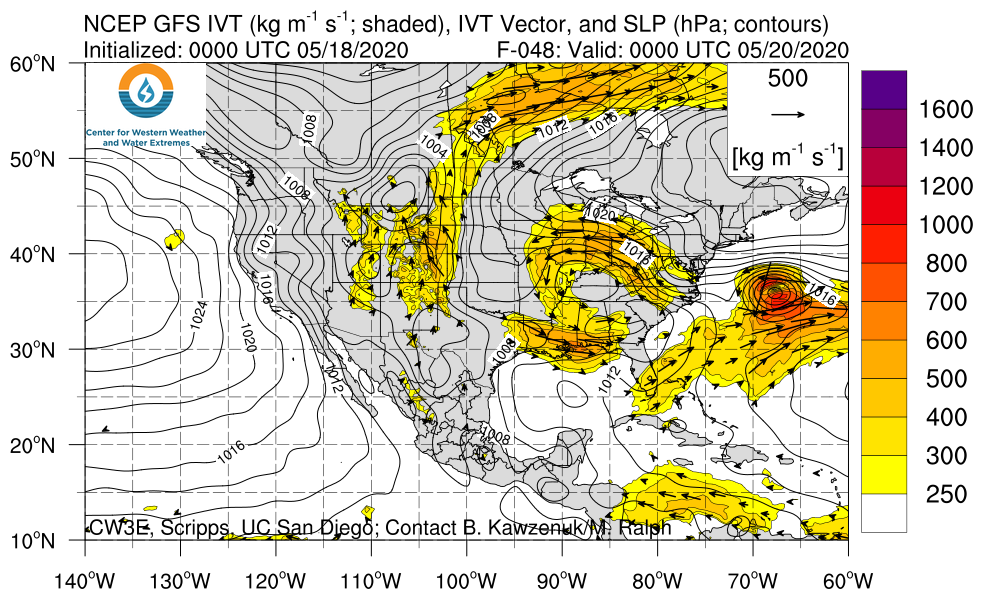 The second image above for evening 19 May 2020 highlights continued easterly flow (winds from the east) despite the steering of Arthur further east into the Atlantic.
The condition of strong and sustained easterly winds for multiple days could bring numerous pelagic species ashore from the Carolinas through coastal New England (especially the Outer Banks, NC, Cape May, NJ, eastern Long Island, NY, and Cape Cod, MA), and given the time of year perhaps especially likely would be Arctic Tern, Roseate Tern, Red Phalarope, and Red-necked Phalarope.
Less frequently encountered species onshore that may be affected could include Long-tailed Jaeger, South Polar Skua, or Sabine's Gull. As we receive reports or as conditions change, we will update this post.
In 2005 and 2006 experiences of some birders from New Jersey to Maine bordered (or simply were) sublime. Some descriptions (here, here, and here), highlight numbers of phalaropes and other seabirds "wrecked" in coastal, and even inland, New England. The systems that brought these birds ashore bear some (though increasingly fewer with passage of time) resemblances to Arthur, but distinctly different in the predicted positioning of low pressure drifting farther east and south of those year's low pressure centers. Note, also, with those accounts other seabirds appeared including alcids and even Magnificent Frigatebird. Additionally, birders on Bermuda should watch this system for entrained and displaced passerines during the middle of the week.