Briefly updated 0600EDT 18 May 2020. Accounts of good to excellent concentrations of birds (generally without the extreme of "fallout" although epic as a description would work in Indiana!) spanned the region from Indiana to Massachusetts on Friday morning: Biddeford Pool, Maine; Fort Revere Park, Massachusetts; Wingaersheek Beach, Massachusetts; Whiskey Island, Ohio; Cleveland Lakefront, Ohio; and Indiana Dunes, Indiana.
As the frontal boundary continued to organize and strengthen through Friday and move through the region on Saturday early morning, birds were actively flying in rain in many areas. Reports from coastal New England Saturday morning highlight the more extreme fallout conditions occurring, including reports like this from Massachusetts: Pilgrim Heights and Wingaersheek Beach.
Many in northeastern North America have lamented this spring migration season to date as "delayed," "worst ever," "awful," "one big cold and damp bummer," and so on, and that's to speak only about it from the narrowest of avian perspectives. Despite scattered medium to high intensity movements in the past 7-10 days, tonight will see a significant change for this region. This post will evolve over the next few hours, but this advanced story will focus on the forecast map for the time being. What will follow will also be some discussion of species on the move, or not, over the past weeks, and how this composition ultimately plays into the movements that will occur from 14-17 May.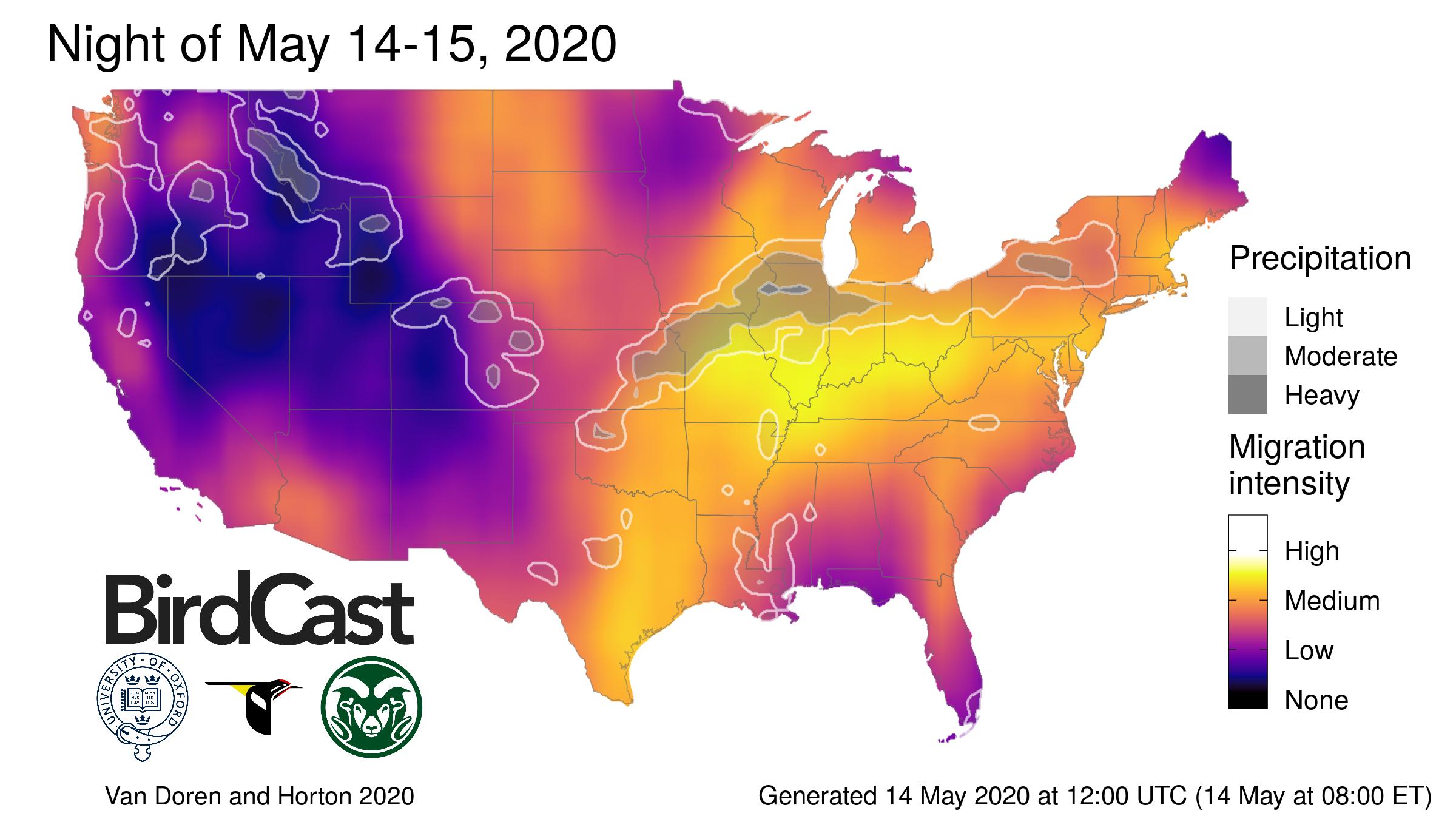 The BirdCast model predicts medium to high intensity migration for a number of areas from the Ohio River Valley east and north through portions of New England. The pulse of arriving birds coincides with a significant warming trend and also the potential for precipitation.
This quantitative precipitation forecasts highlights the areas predicted to experience precipitation. Where birds and precipitation meet, fallouts and local concentrations are likely; such scenarios look particularly favorable for a broad region spanning the Ohio River Valley east through central New York into southern New England.
Being mindful of the absolutely imperative need to keep physical distance and heed all guidelines regarding movement, keep an eye and ear on: your yard, your window, your local patch tomorrow morning. And please submit your observations to eBird!