Our friend and collaborator Dave Nicosia in the Binghamton office of the National Weather Service keeps us on our toes when it comes to anomalous weather. He sent us this brief message today for us to share with those of you watching at home in the northeastern US. Take it away, Dave!
For the past few days there has been an upper level low pressure system spinning about over the Ohio and Tennessee River Valleys (see the image below). This feature is cut off from the main polar jet stream current, which is flowing across Canada.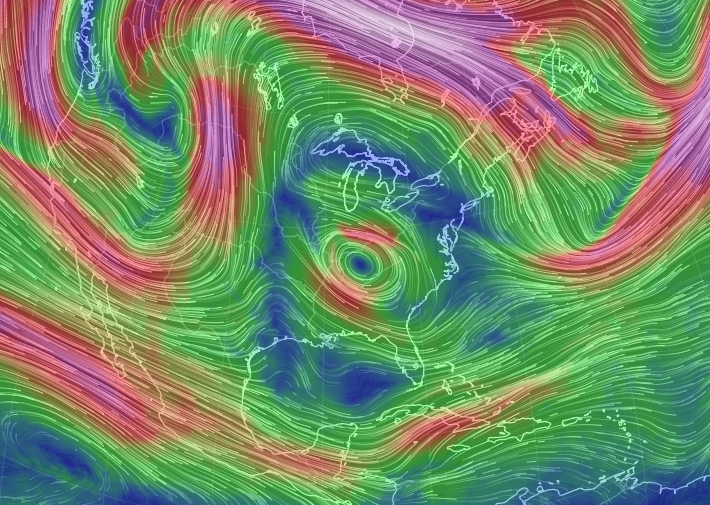 The effect of this is rain south of the northeast U.S from Ohio to the Carolinas. For the past few mornings, radars in the northeast U.S have seen modest bird echoes at night. But, to the south across the mid Atlantic and Ohio Valley, there has been little migration as detected by radar. The figure below depicts an example of this pattern, this mosaic from the night of 20-21 May 2020.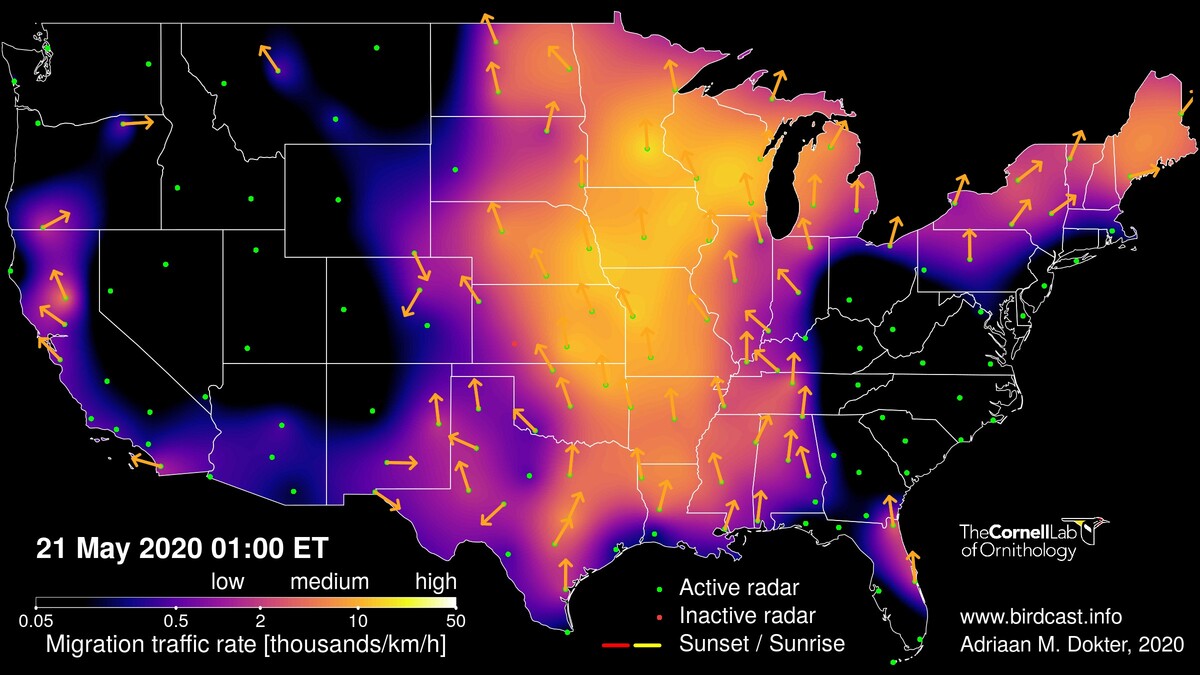 This means there has been generally a net flux of birds out of the northeast US as birds move northeast into eastern Canada. For example, species like White-crowned and White-throated Sparrows, have vacated where I live in the southern tier of NY on their way to their respective breeding grounds. A few days ago, they were abundant, especially the latter of these species.
Fortunately, forecast models show this upper level low gets kicked out by another upper level feature by Saturday and then the door opens up. From Sunday 24 May to Tuesday 26 May, there will be prolonged southwest winds in the lower atmosphere from the Gulf of Mexico up through the Ohio Valley to the northeast U.S with warmer temperatures. Hopefully, many of our later migrants that we see in the northeast U.S won't just fly right by us to their breeding grounds! Many of our later arriving breeders should be back in full numbers by early next week.
For some perspective on May … this has been the slowest evolving May going back to the 1990s. For example, temperatures at the Binghamton airport for May are averaging 5.4 degrees below normal (see the graphic below!). Many other areas in the northeast are experiencing similar colder than normal temperatures. The leaves on many deciduous tree species are well behind where they normally are in late May. For example, in the southern tier of New York, oaks are just budding and maples are finally showing a light green haze.  In one week, we should see a rapid leaf out of many species of trees and migration picking up again. Next week's anticipated migration could be "fast and furious" because many of these species are itching to get to their breeding grounds and probably won't stay around long. So birders should try to get out as much as possible in the next week!