Please follow along on this live map to see where hurricane-driven species occur. If you receive a message regarding a disconnection from the server, please reload. The map may take some time to load, and you may receive a "waiting" message, given the large number of observations of storm-driven birds!
Updated Monday 21 August, 500EDT. Hurricane Hilary is now post-tropical and quickly deteriorating to a tropical depression. By 0800MT the remains of the system will be near the Nevada, Oregon, Idaho border.

Updated Sunday 700EDT. Hurricane Hilary has been working its way generally to the northwest for a few days. Although this storm's track has been oceanic to date, it is presently forecast to follow a now northerly track and to make landfall in northern Baja California and move quickly through California and into Nevada. There is a strong possibility for a significant diversity of entrained and displaced birds in California and Nevada, and given the storm's speed, even into Oregon and Idaho.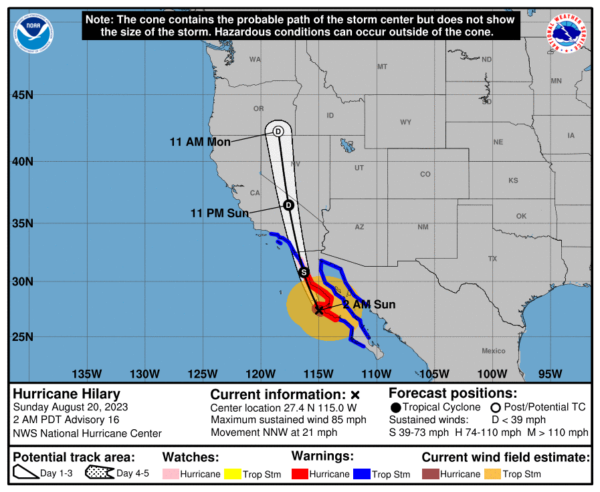 By late Sunday afternoon this storm's circulation will have arrived in Southern California, moving quickly through the state. As always safety is the number one priority, as this storm will bring dangerous conditions. Inland water bodies and river valleys, whether San Diego County lakes in California, isolated like Walker Lake in Nevada, or small like irrigation, golf course, and sewage treatment ponds, will likely host concentrations of birds entrained and displaced by the storm on Sunday afternoon and Monday morning in Southern California and Monday morning in Nevada. Additional spots to check would include Mono Lake, Pyramid Lake, and possibly Lake Havasu depending on the breadth of the storm's wind field. Further, where it is safe, vistas over broad areas of desert in these areas on Monday may yield opportunities to see birds on the move over unfavorable and inhospitable terrain, including in Death Valley National Park. The speed of this storm will see it arrive near the Oregon-Idaho border, by Monday afternoon, and should have birders vigilant in this vicinity as well. Also, remember, despite the immediate return movements of some seabirds following the passage of a storm, some inland seabirds deposited by such storms can be present for days following the storm, lingering on even very small bodies of water.
Birders that can safely observe may have an interesting early work week, with a diverse array of possible seabirds (some birders may remember the vagrants from Hurricane Nora and Hurricane Newton), that may include Pterodroma petrels (e.g. Cook's, Juan Fernandez Petrel), Wedge-tailed Shearwater, Wedge-rumped, Leach's, Black and Least Storm-Petrels, Red-billed Tropicbird, Magnificent Frigatebird, and Laughing and Yellow-footed Gulls (also Sabine's Gull and jaegers), Bridled and Sooty Terns, boobies, maybe Laysan Albatross, and possibly shorebirds, which are presumably less likely to be entrained in the storm's circulation and perhaps more likely to be downed from high altitude flights as they approach the storm's turbulence).
Stay tuned for updates, and above all stay safe – safety first! Remember, HEAVY rains are forecast for this storm and desert washes and low lying areas are likely to be treacherous, and though tempting should be avoided!!!