Update 930am EDT, 2 October 2015
The newest models from the National Hurricane Center suggest Hurricane Joaquin will stay far to the east of the Atlantic Coast. We will continue to monitor the storm, although the most likely outcome from the avian perspective is a windfall of Nearctic and Neotropical migrants in the Palearctic! Given Joaquin's forecast track, the potential for it to entrain some trans-Atlantic migrants like Yellow-billed Cuckoo, Red-eyed Vireo, Gray-cheeked Thrush, and Blackpoll Warbler, among others, is probably in the forefront of many UK birders' minds . . .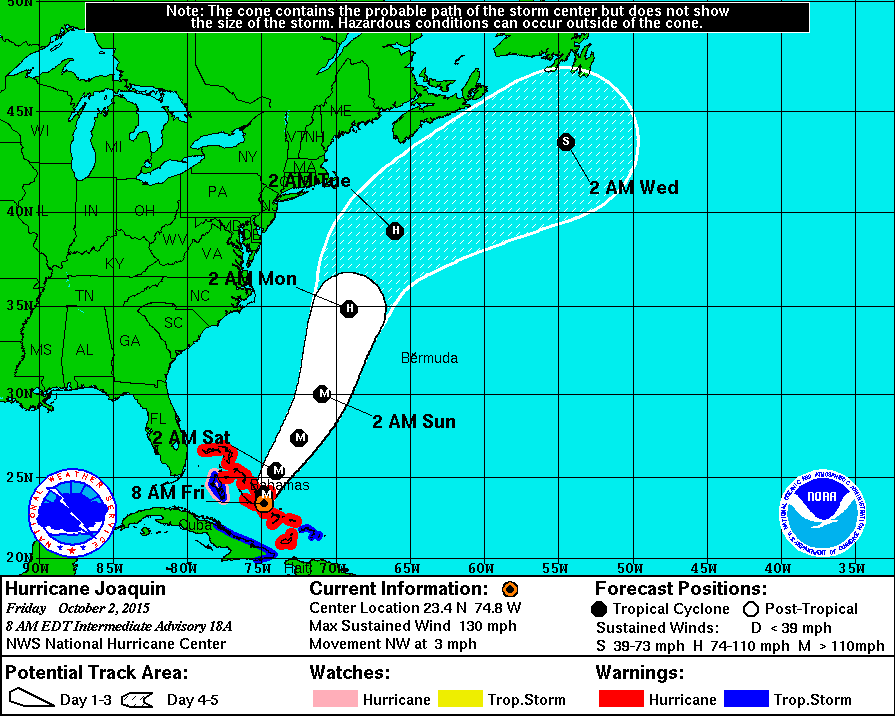 Update 530am EDT, 1 October 2015
New model runs arrive every 3 hours, and the 5am forecast predictions show a new track (of course). Assuming safety is still your number one priority, birders in DelMarVa, New Jersey, and Long Island should begin considering their plans for visiting (safe) observation locations to see the bounty that may come ashore (safely!). Given the track of this system and continued uncertainty with the path of the system, we will keep a close eye on what the National Hurricane Center and others say!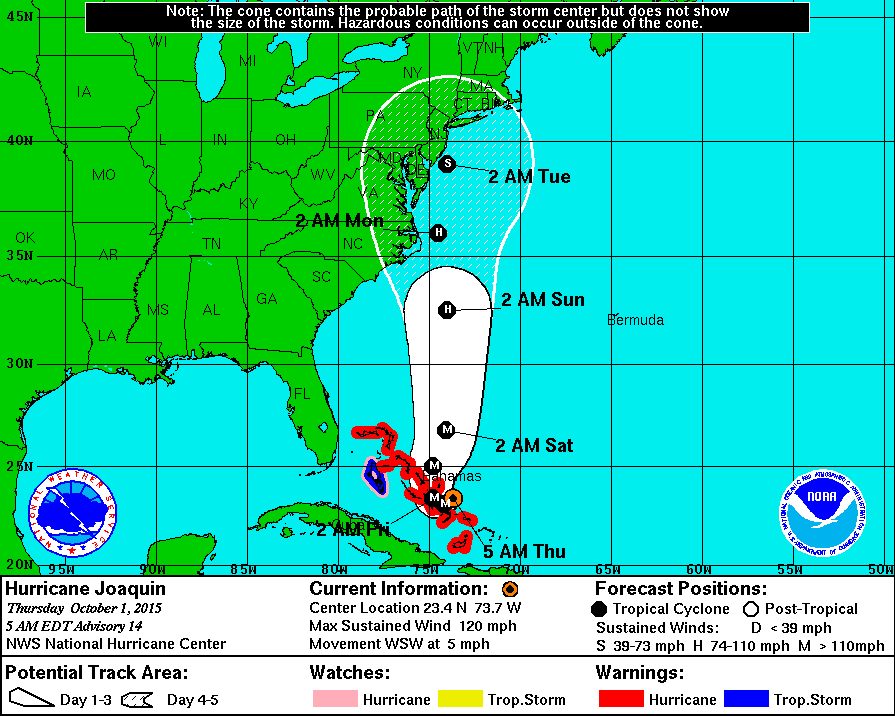 Update, 1130pm EDT, 30 September 2015
New model runs are complete, and the latest forecast predictions show the eye of Hurricane Joaquin coming ashore in the Outer Banks and Chesapeake Bay vicinity. Assuming safety is still your number one priority, the potential for an excellent deposit of pelagic and near shore birds in coastal and inland bodies of water in Virginia, Maryland, DelMarVa, Washington DC, and the Chesapeake Bay watershed is high and suggests that birders should begin considering their plans for visiting (safe) observation locations to see the bounty that comes ashore (safely!).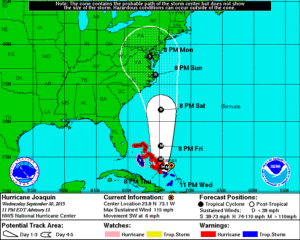 Original post
Thankful is the word that most might use to describe the lackluster 2015 hurricane season to date. Most birders would certainly agree, although a lackluster hurricane season means lackluster avian displacement and entrainment events.
A change may be in order beginning next week, when Hurricane Joaquin may make landfall along the mid Atlantic. Of course, all hurricanes are dangerous, and safety is of the utmost importance before, during, and after their passage. But the eBird and BirdCast teams have written previously on how to consider birding when a tropical system comes to your area. Please visit this post to refresh your memory.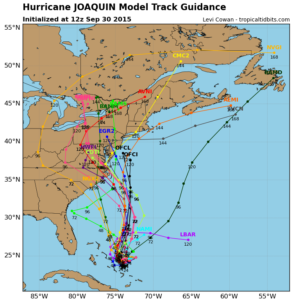 We will be watching this storm and its projected path in the coming days, and we will post updated forecasts on the BirdCast site if warranted. Given the prevalence of warm water in the northwest Atlantic Ocean this summer and fall, and recent southerly influences apparent on offshore pelagic trips (see this trip and this trip), we might expect Black-capped Petrel, Leach's, Band-rumped and White-faced Storm-Petrels, White-tailed Tropicbird, Sooty and Bridled Terns, and a host of other possibilities in the mix. We will be posting additional details about potential species composition at or near landfall as warranted.
One thing that Teams eBird and BirdCast would like to ask, aside from safety first (!): if you do bird before, in, after, or near Hurricane Joaquin's path, please keep careful notes about the timing of any vagrant birds you see, take photographs, and make sure you submit your complete checklists to eBird!