Species on the move this week features birds that are catching up on their schedules, exploding on to the scene, and falling out.
Eastern Phoebes finally began to arrive in large numbers in the Northeast, effectively erasing delays in arrivals experienced during previous weeks.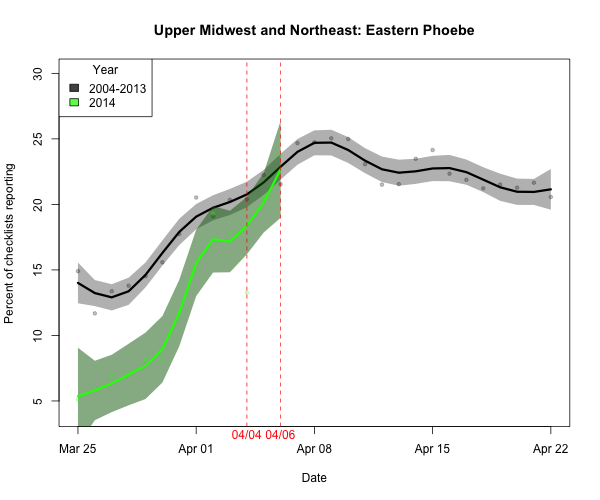 Orchard Orioles are now appearing on checklists with frequencies more like 12-13 April.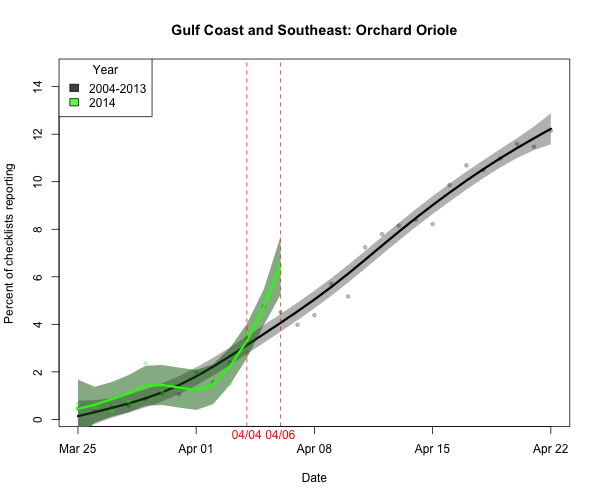 Blue-winged Warblers arrived en masse this weekend, in particular during the fallout events along the Gulf Coast, and this spike in checklists reporting the species is real.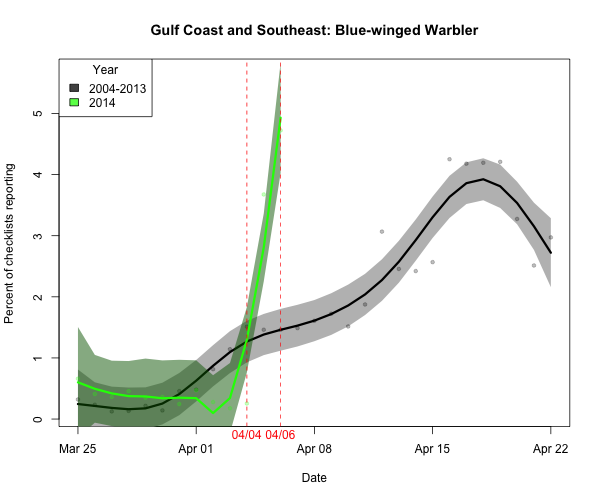 The predicted fallouts along the Gulf Coast from 4 April through the weekend transpired in interesting ways as the frontal boundary drifted into the Gulf of Mexico, stalled, and then backtracked as a warm front. Numerous neotropical migrant passerines were stacked up on the Gulf Coast as a result of the rains, as were waterbirds like herons and Franklin's Gull (among others). Several accounts from Texas (Port Aransas, Galveston, Sabine Woods), Louisiana (Grand Isle, Holly Beach to Sabine Bridge), Alabama (Fort Morgan), and the Florida Panhandle (Gulf Breeze, Pensacola) highlight the spectacle and diversity of these movements.
After experiencing northerly headwinds in the northern Gulf of Mexico on Friday, these Green Herons finally make it ashore in High Island, Texas. Mere feet after crossing the beach at 7:20 PM, presumably having flown for nearly 24 straight hours, they dive for cover. Many other herons did the same (a few coming in at close to head height), and a few passerines (Common Yellowthroats, Rose-breasted Grosbeak, etc.) came flying in right above the water and landed in the first vegetation they saw.