A major disturbance, and significant high pressure, will move through the northern and central Rockies in the next 48 hours. There will be a dramatic change of temperature regime in many areas, possibly as large as 25-35 degrees C difference, as well as some potentially significant snow. The snow will almost certainly force local residents and shorter distance and altitudinal migrants to move in the Rockies. How this system will affect the numerous longer distance migrants en route to the tropical Americas remains to be seen. The forecast imagery immediately below shows the position of a strong high pressure center (the blue H) over Montana, and snow in portions of Wyoming, Nebraska, Colorado, and Utah. The frontal boundary defining this arriving cold air mass stretches far into the continental US.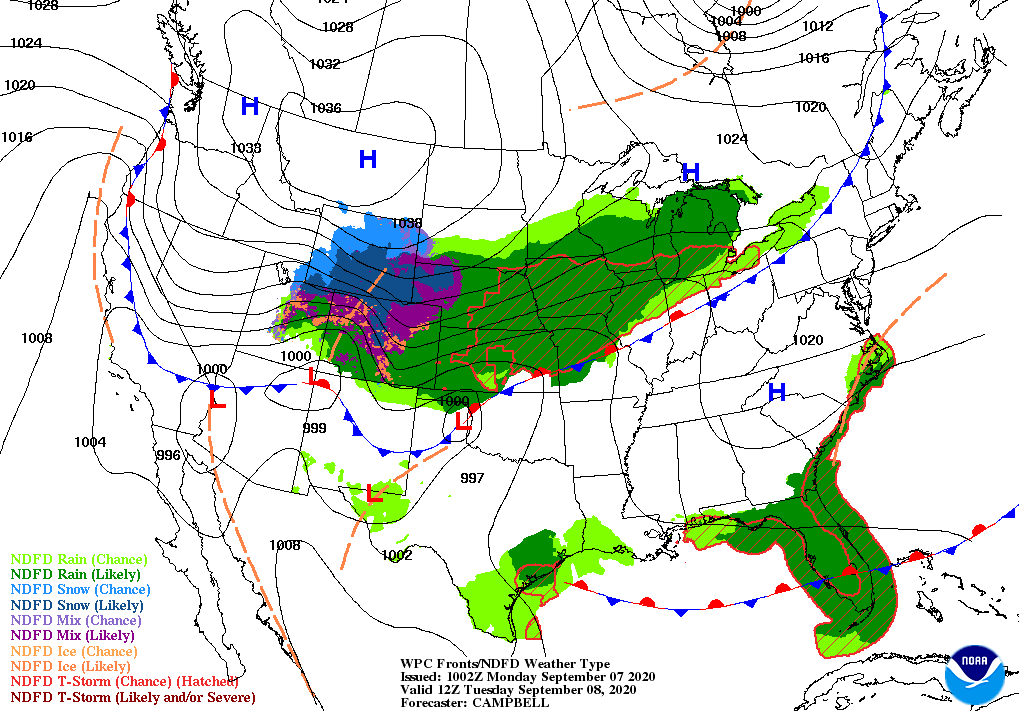 Current bird migration forecasts suggest medium to high intensity movements in eastern Great Plains and Upper Midwest associated with this disturbance. The forecast imagery below is for Monday night, followed further below by the imagery for Tuesday night. Note the areas where migration is forecast to occur, relative to the project position of precipitation in this area. The intersection of rain and birds, where rain is more extensive and intense, will create conditions for local concentrations of waterbirds, shorebirds, and passerines.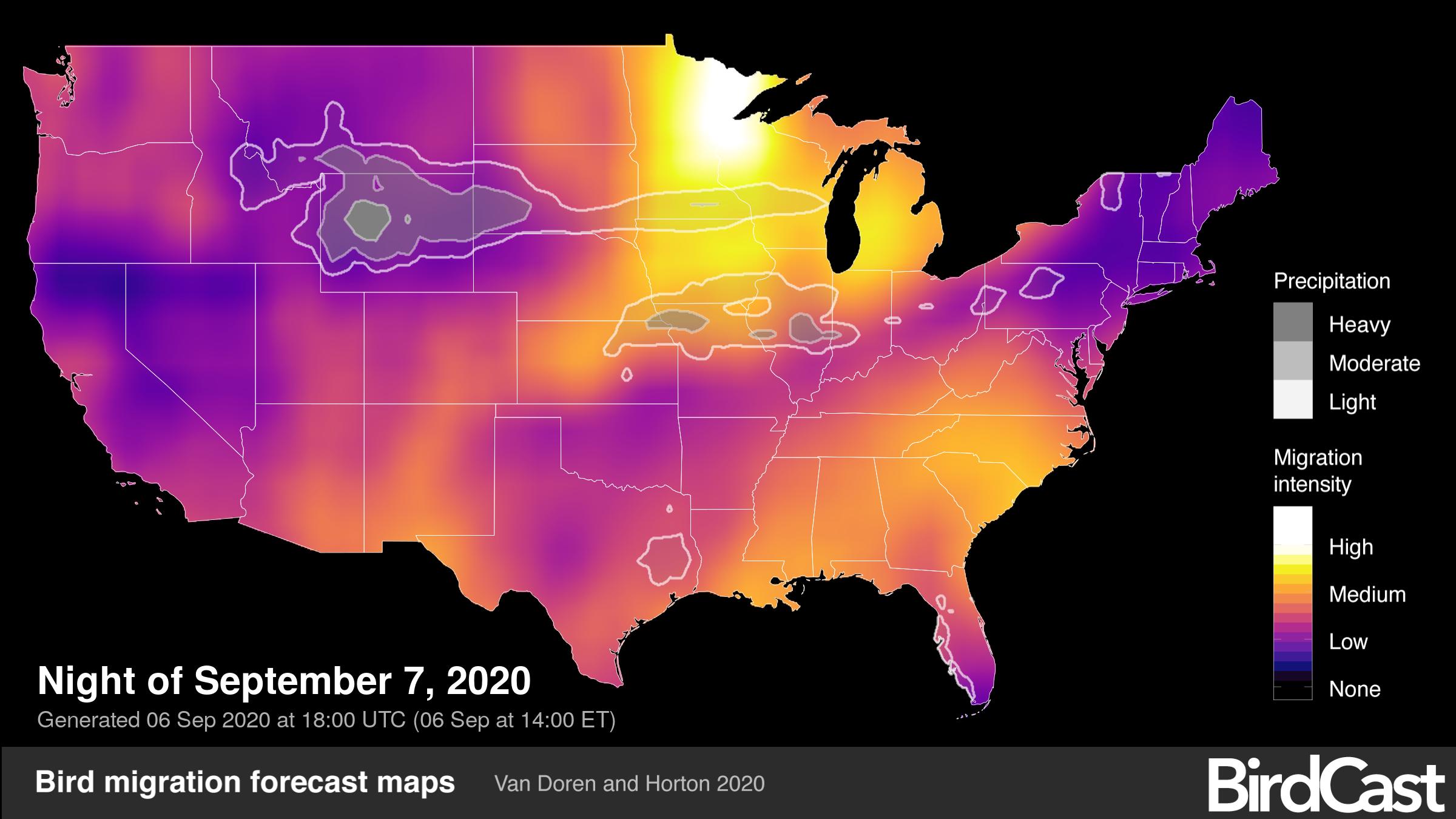 Because of the nature of the cold temperatures, snow, and the predicted path and position of the disturbance, medium to locally higher intensities are still likely east of the Great Plains as the weather system in the Rockies moves farther south toward the Texas Panhandle. The imagery below shows the migration forecast for Tuesday night.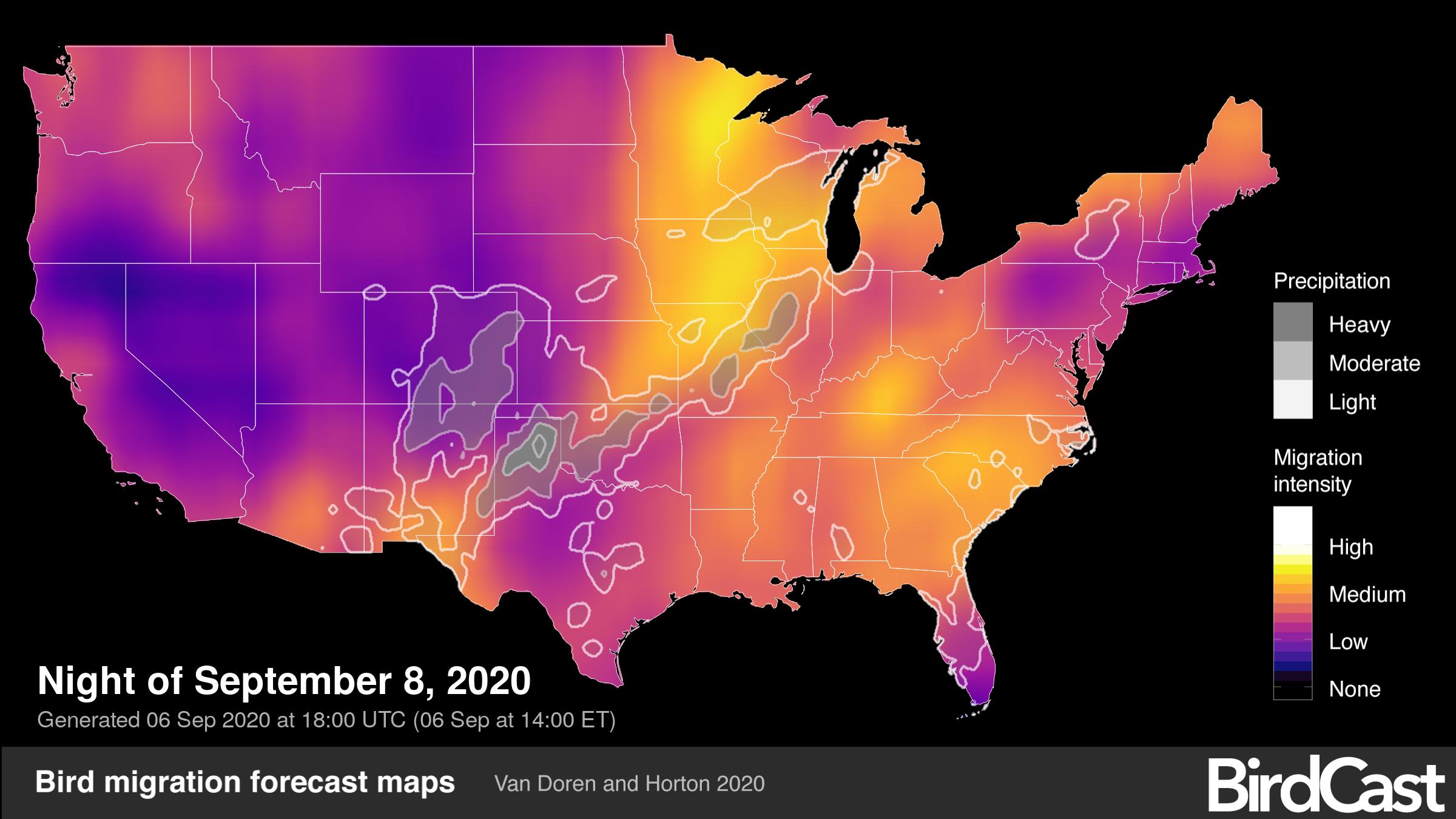 Note as well in both of these bird migration forecast maps that conditions will be present for concentrations in the southeastern US, especially Florida where another frontal boundary will be stationed between Monday and Tuesday.
In both of these areas of the country, poor visibility conditions, artificial light, and bird migration overlap and create a major hard for nocturnally migrating birds – so turn out all unnecessary lights!
Stay tuned here and to the CSU AeroEco Lab as we watch what unfolds with this dramatic change in the prevailing weather.