This week the Gulf Coast of the US will experience landfall of two tropical systems, Laura and Marco. This dangerous twin bill will come with flooding, storm surge, heavy rains, and wind in many areas of the western Gulf of Mexico and lower Mississippi River valley. BirdCast is tracking the arrival of the two storms, the graphics below summarizing the latest tracks' information as of 11AM ET on 24 August 2020 as well as observations of entrained and displaced birds at and after landfall of each system.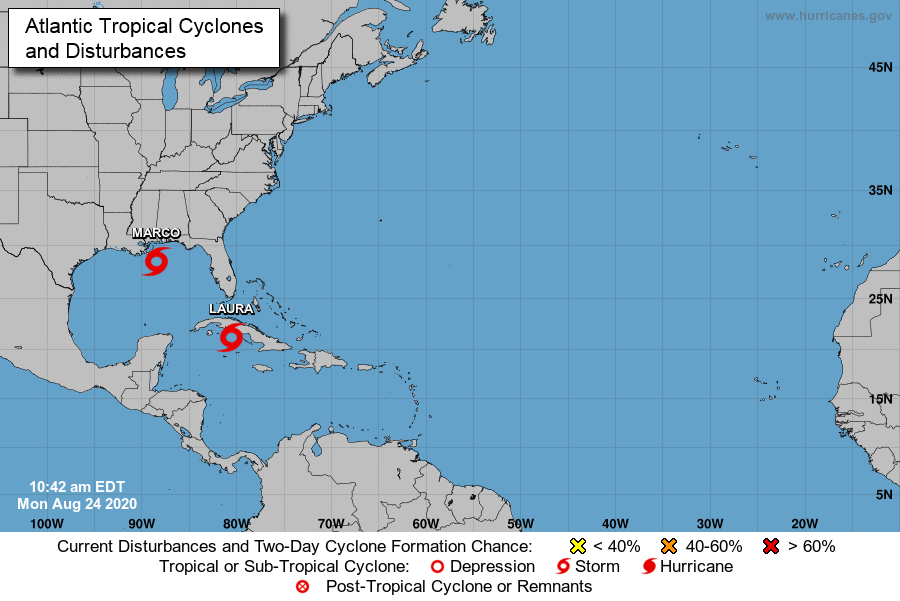 Marco is currently a Tropical Storm, forecast to deteriorate rapidly to a Tropical Depression over the coming 24 hours and deteriorate further thereafter. As it grazes the Louisiana coast and proceeds inland, observations from safe locations away from dangerous storm surge, flooding and winds, could produce an array of Gulf of Mexico near shore and pelagic species in portions of coastal Mississippi and Louisiana, primarily the latter area.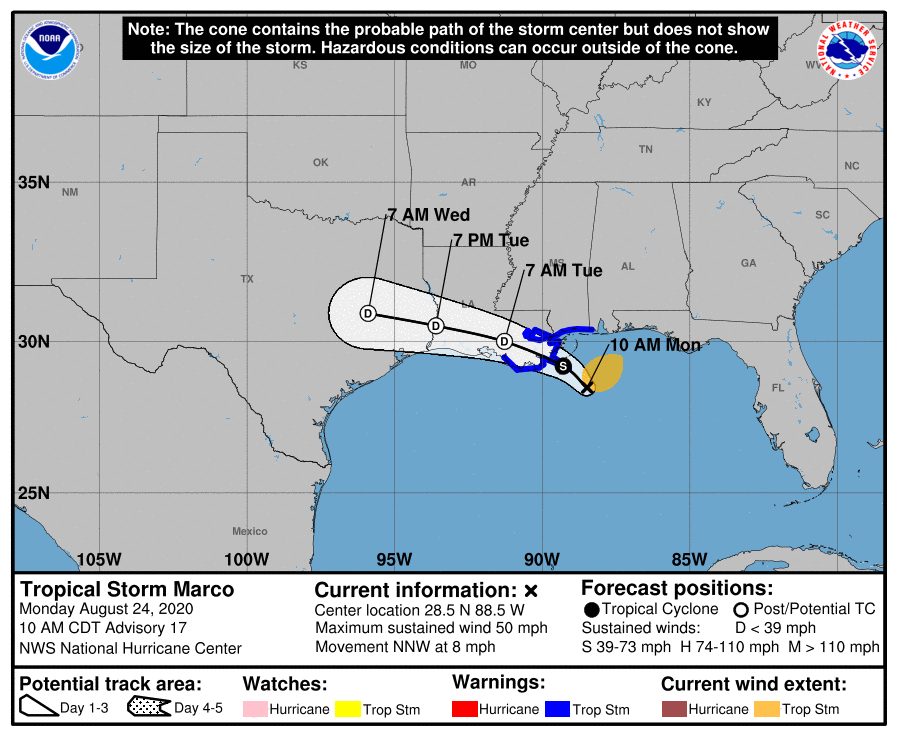 Laura is currently a Tropical Storm, forecast to intensify to a Hurricane in the next 36 hours. Current forecasts predict landfall as a Hurricane near the Texas-Louisiana border. With this stronger of the two tropical systems could come presumably more and additional pelagic and aerial species from farther south and east in the Caribbean than from Marco, and birders should be watchful for seabirds as well as aerialists like martins, swallows, and swifts and downing of overland migrants such as shorebirds. Portions of eastern Texas, central and southern Louisiana, and far western Mississippi will see impacts of avian entrainment and displacement later on Wednesday and Thursday, whereas areas further inland include far eastern Oklahoma, northern Louisiana, eastern Arkansas, and additional portions of the lower Mississippi River valley will see action on Thursday. Some potential for storm blown vagrants persists into Friday in southern Missouri, western Tennessee and western Kentucky.