Welcome to our latest installment of the traffic report describing northeast US nocturnal bird migration traffic rates, as calculated from a completely automated pipeline of algorithms. The images you see in Traffic Reports present the migration traffic rate (MTR), direction of bird movement, and speed of bird movement. See our first report or scientific paper (currently a preprint) for more information about the calculations and algorithms we use.
Migration over the last week
We're nearing the end of the fall migration season. Last weekend (7-8 November) saw some limited movements, largely in the south of the region and along the coast (as is typical for late-season movements). Some coastal areas experienced light flights on Wednesday night (11 November) as well.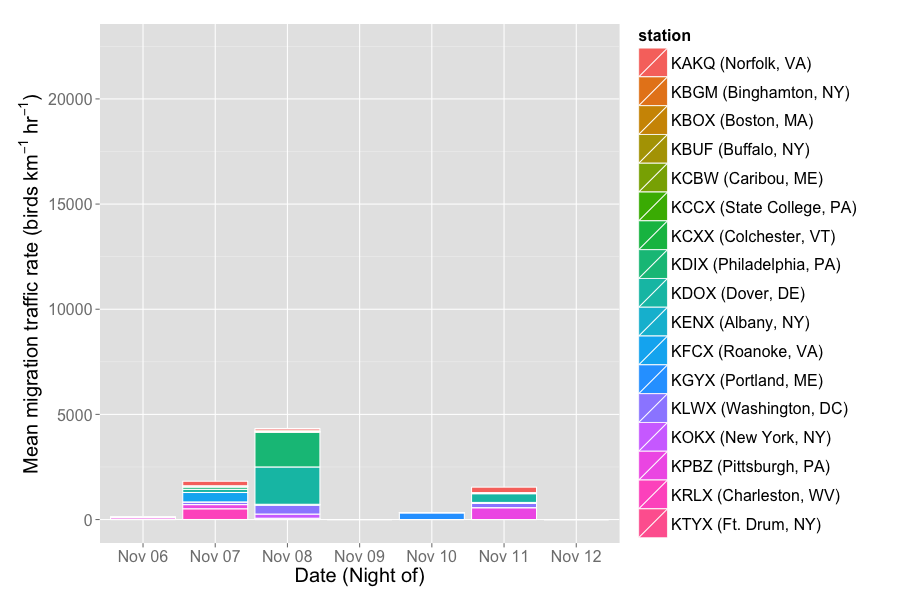 Nightly migration loops
Movements last weekend were light and restricted to the coast and southern parts of the region.

We saw a similar event Wednesday night.
For more detailed accounting of what species were migrating during this period, please visit our regional migration analysis for the Upper Midwest and Northeast in which we (as humans not just algorithms!) describe and interpret movements in greater detail.